TLDR: Here're the Best WaterProof Smartwatch for Swimming I'll be diving into in this article
If you're reading this you're probably already wondering what is the best smartwatch for swimming?
Fortunately, we've done all the hard work to come up with the most comprehensive buyers guide to help you pick the best waterproof smartwatch in 2022! Right from testing the watches to including details on the waterproofing technology and how far can you really take it whether in the pool or the sea.
We've covered all the depths of what there is to give you a complete guide that will be more than enough to help you make the most rational buying decision.
To allow for better readability we have divided this review into distinct sections. You can either choose to read this review as is in the order of the Table of contents or directly jump to the detailed reviews if you're just looking to reassure yourself on a particle brand.
Best Waterproof Smartwatch 2022
1. Garmin Vivoactive 3 Music – Best Waterproof Smartwatch For Swimming
Reason to buy: You want only the best smartwatch not only for everyday use but also for the sport that is made of highly durable materials.
The Garmin Vivoactive 3 Music is the phone-free or standalone sports watch that its predecessor the Vivoactive 3 always wanted to become. Moreover, it's not only that but also the perfect balance that the Vivoactive 3 has between sports and everyday use making this the best smartwatch Garmin's ever made! The Vivoactive 3 Music is a great balance of sports and smartwatches.
If you've used a Garmin product you probably already know this product is going to be sick in fact the Garmin Vivoactive 3 Music should pretty much explain itself. It is the latest sports smartwatch from the fitness giant that takes the infamous Vivoactive 3 we know and love and bestows on it the gift of music. The Vivoactive 3 music lets you play your tunes from your watch instead of your phone by combining best a sports smartwatch with features for everyday use.
Waterproof rating: 5 ATM (50m)
Pool and open water swim tracking: Pool only
Waterproof details and its usability in water
Till now Garmin has made sure pretty much most of its trackers can be taken and used in a pool. The fitness trackers Vivosport and Vivofit 4 already bring 5ATM to the table so this is not something new for the Garmin. With the Garmin Vivoactive 3 being waterproof up to 5ATM you can take it swimming with you at up to 50 meters depth so think pools or shallow snorkeling. This also means you can wear it in the shower YAY!
The Garmin Vivoactive 3 music has a dedicated swimming screen called the Garmin Connect, which collects real-time data of distance, time, stroke, SWOLF, temperature, pace, speed and more. Also, the Chroma Display ensures you can view your real-time swim data whilst under the water (how cool is that). Currently, there is no support for open water swim tracking but you can get this with the more expensive Garmin devices. If you spend most of your time in the pool, then the Garmin Vivoactive 3 music is a good fit for you.
Design and looks
On looks at least, the Vivoactive 3 was a major upgrade to what Garmin had come up with before it. Garmin morphed from the unsightly bulky rectangle into a beautiful circular watch face. The change between something like that and the Music is not a lot but still, it is very much an improvement to be noted. The Garmin Vivoactive 3 Music actually only comes in black, but this time Garmin's upgraded its glass by going for a chemically strengthened glass finish that is much more glossier and much better than the former metallic look of the Vivoactive 3's. We were very quickly collecting scratches on the metallic ring around the former Vivoactive 3's face, but so far the Music has remained scratch and scuff free! This is all thanks to the strengthened glass finish.
Interface and usability
As we already mentioned earlier, the Vivoactive 3 Music has pretty much all of the same sports tracking features as the Vivoactive 3. However, the Vivoactive 3 Music also works as an everyday smartwatch with support for notifications, infamous Garmin Pay and a few other "smart features". Garmin is now venturing into the wearable market with this device after pretty much dominating the sports space. Although the Notifications still a work in progress they aren't handled as nicely as they are on the Apple Watch Series. You still can send quick replies if you're on an Android (sorry but no iPhone for now)Also using the Garmin's nifty cut-out responses you can pretty much use it as a smartphone on the go.
Music, Music, and Music
So finally let's talk music. Garmin's put aside enough space for close to 500 songs, which can either be uploaded as files directly from a computer using proprietary software i.e Garmin Express program or simply synced from one of the music services Garmin's partnered with. At the moment this list is solely comprised of iHeartRadio in the US and UK, but soon another music giant Deezer will soon start supporting it.
Sports and fitness tracking
As you may already know Garmin is currently leading the sports wearable space this is as a result of years of dedication towards pushing the boundaries in this niche. To no surprise the Garmin Vivoactive 3 Music is the best sports watch on the market right now. The Vivoactive 3 is essentially a GPS sports watch that comes preloaded with a whole multitude of workouts that include running, biking bot indoor and outdoor, swimming, rowing, skiing, golf, yoga and a bunch of gym activities. The best part is you can now also create custom workouts by taking making custom lists. You also have the ability to tweak data screens and alerts as per your workout!
Battery life
Now although Garmin says you should get a cool seven days of battery life if you use it in "smartwatch mode" which basically is not powering the GPS or sports modes that's simply not possible because these are the two features you probably are buying it for.
A more realistic battery life test based on usability
You will get about five hours if you turn on GPS and use music.
You can get up to about 13 hours with simply the GPS turned on.
2. Apple Watch Series 5 – Best Waterproof Smartwatch For Health Tracking
Reason to buy: You are looking for the best combination of a smartwatch with cellular/standalone capability and fitness/activity trackers.
All the other tech giants like Samsung, Google, and the Wear OS gang look like they 're playing catch up to Apple on the wearable watch market. The series 5 goes beyond any of them and streaks ahead already.
The truth is that the Apple Watch Series 5 is in a completely different league right now. With good balances between sport and everyday use, cellular and other important features, and specs you're looking at the best standalone waterproof smartwatch!
Although Battery life is still just OK it is a big improvement from the Apple Watch Series 4. Probably the only reason to consider another watch like the Garmin is for low battery life. On the plus side, the ease of use and availability of 4G cellular connectivity, the accuracy of the trackers, and usefulness of the inbuilt heart rate monitor and the whole breadth of its fitness ecosystem is a perfect combination for users looking for the complete package. It is in these areas that have left most rivals in its dust.
Add to that the infamous Apple Pay, SOS features, fall detection, heart rate alerts and you're looking at something highly functional that will definitely have a positive impact on the user's life.
Waterproof rating: 5 ATM (50m) Pool and open water swim tracking: Yes
Waterproof details and its usability in water: The Apple watch series 5 has a waterproof rating of 5 ATM (50m) meaning you can take it with you to the Pool and open water swim tracking:
With the Apple watch, you can use a whole multitude of tracking metrics such as the distance covered, laps, average pace it can also distinguish the type of stroke style based on your movement. Do note that whilst swimming the touchscreen will be inactive, but you can simply raise your arm above water to check in on real-time progress. The tracking Data is synced to Apple's Activity app, but there are a handful of third-party swimming tracking apps that also support and add to the swim tracking features for more advanced users.
You can shower with the Apple watch Series 5 but we recommend watching out for soaps, shampoos, and other related products. However, the Apple Watch Series 5 shouldn't be used for scuba diving, water skiing, or other activities involving high-velocity water or submersion below shallow depth.
Design and looks
The Apple Series 5 changes screen size for the first time since the original Apple Watch which is a huge step in the design of the Apple Watch series. It is now available in 40mm and 44mm flavors, as opposed to the former 38mm and 42mm size options. While the face is a bigger 40mm watch it might not feel bigger (thanks to the slimmer build making it actually smaller overall!) most people won't feel the difference. But the 38mm version was unique to the smartwatch world.
Now It may sound like nothing, but in watches, millimeters make a difference, and this small change makes for the best ever looking smartwatch made by Apple. More importantly, losing the black gap around the watches edge makes for such a much better-looking smartwatch. Likewise, the new steeper corners make for a less boxy look and add to the aesthetics.
Interface and usability
On the Apple series 5 we're looking at the same basic functionality as Apple Watches especially the Series 4. We have Notifications, fitness tracking via the closing of the infamous rings, sports tracking, and of course the sweet 4G LTE cellular if you opt for the Series 5 LTE Standalone version. Apple Pay still has a central role in this watch as it's recognized by quite a lot of vendors to accept payments and we simply love it.
Health tracking
Apart from cellular, the series 5 has good fitness and health features! There is a distinct difference in fitness referring to tracking workouts and other activities, while health has a much more serious impact, in terms of monitoring your body for any initial signs of a serious illness, and also in protecting you against falls.
1. Heart rate tracking: When the first original Apple Watch landed it barely had an accurate heart rate sensor, but today this is not the case in fact on the Series 4 it's an integral part of the whole experience. And there are multiple aspects to heart rate tracking.
The Heart rate tracking is on and monitored on a 24/7 basis – and then that data can be used in a number of ways. First, you can simply view it on the Apple Watch itself by using the heartbeat tracking app. Then you will be presented with three sets of metrics: resting heart rate, current heart rate, and walking heart rate. These will be plotted across your day and you will be able to infer a lot through analysis think ECG analysis!
2. Activity tracking: The fitness activity tracking elements of the Apple Watch haven't had any significant changes, and it's still a great experience for those who want to keep tabs on their everyday goals. You're looking at three main metrics:
Move: Detects the calories burned
Exercise: active minutes of exercising based on your movement and heart rate
Stand: which is the total amount of hours in which you've stood for a whole single minute.
This is a nice break from the standard step goals you've used before, which are the interface of most fitness trackers nowadays – and now the iconic closing of the rings is a great way to check and track your progress. The rings can also be added and customized into many complications as per your requirement, you can now see three sets of goals and the progress in a very small space – which is quite clever.
What's more, is that the Move goal automatically shifts and changes according to your general activity, so it doesn't seem to overdo it or go too easy and grows as you get fitter. A big thumbs up here for those into Kaizen (continuous improvement). You are still prompted to stand, which can be quite irritating at times but that is not as annoying as the reminders to use Apple's Breathe app which is a play at mindfulness. It is simply an app that will guide you through breathing routines, supposedly relieves stress through meditation. The reminders were quite off-putting, and we quickly turned this off in the app because we're not a huge fan of meditation but it can be great if you are into that!
You can also review all the progress in the set goals on the Watch from the complication rings, the Activity watch app, the special Activity watch face, the regular updates and other prompts. You can also get historical goal progress via the Activity iPhone app.
Sports tracking
The fitness ecosystem is among the best on the Apple Watches and we have seen some incredible upgrades in the Apple watch series 5.
The Apple Workout app: While the workout app hasn't changed from on the new Apple Series 4 watch, it has undergone some substantial improvements in the watchOS 5 / This is crucial if Apple wants to convince the sporty athletic people who move away from Apple for the Garmin.
The new sports tracker on the Apple series 5 comes with a full list of reading running (both indoor and outdoor), cycling again both indoor and outdoor, walking both indoor and outdoor), hiking and yoga (both new to watchOS 5) and rowing, elliptical, stair stepper, and general high-intensity interval workouts.
Running tracking
Running is one of the areas in which the Apple series 4 has improved the most, with some specific metrics added. The watchOS 5 adds a whole bunch of new workout features, including the auto-exercise detection as well as a sweet cadence and rolling pace. We're actually pretty excited to see the cadence added to the Apple Workout app, which is often an underused stat for running efficiency. After testing we saw that the Running trackers are on par with the sports tracking capabilities on a Garmin.
Drawbacks but not dealbreakers:
Unreliable Siri
The Series 4 has a louder speaker and part of the logic behind adding it is for better interactions with Siri but we still have mixed feelings about this one.
Currently, Siri isn't a leading smart assistant but it has improved quite a lot. Siri on the Apple Watch is good for setting alarms, some quick reminders, checking the weather outside and also for running quick internet searches with your voice. Upon testing Siri for google searches we found that the voice search has improved quite a lot as compared to the older version. Do note when things got a little more complicated, it does fall short. Currently, Mapping and directions are still a bit of a letdown. Siri is easily influenced by background noises and messes up searches of things like business names that are complex and sound like something else.
The Siri's wrist raise is a new feature in watchOS 5 that simply lets you just pull the watch to your mouth and turns on Siri. We found it a bit of a hit and miss with the wrist raise – particularly if you need to make another query to Siri. You have to exaggerate the action of returning your hand down and, then raising the wrist.
Bad Battery life
Although this is an improvement from the Series 4 we still find Apple a little short as compared to other competitor smartwatches.
If we had one major reason to not go for the Apple Watch Series 5 it will be because of the battery life. Despite adding 2mm to the screen size (and slimming the build), battery life remains at 18 hours. We ran a few real-world tests to find out that the Apple series 4 watch at around 50% drain when heading right to bed with some careful management you can get it through two "days" but this is not realistic in an everyday scenario.
This is not necessarily a problem for everyone but others wanting a whole week of battery life are going to be disappointed. If you're going on three-day travel or business trip remember to pack your charger.
Battery tests
In running and sports mode you should get around 6 hours of GPS tracking. More than enough to run a whole marathon.
To be honest, in the era of smartphones requiring a night charge we don't have a huge problem with the Apple watch only lasting about a day but the reality is that there is a tradeoff between features and battery life. Unfortunately, you cannot have both at the moment.
3. Apple Watch Series 4 – Decent Waterproof Smartwatch for the GYM & Pools
Reason to buy: You aren't on a budget and are looking for a good standalone experience on your smartwatch with also good sports tracking features when you hit the pool. You also want something that looks aesthetic and are into third-party apps.
Waterproof rating: 5 ATM (50m) Pool and open water swim tracking: Yes
Waterproof details and its usability in water
The waterproof rating on the Apple Series 4 is 5 ATM (50m) which means you can take it with you to the pool and use it up to 50 meters. You will get served up with a whole multitude of tracking metrics such as the distance covered, laps, average pace it can also distinguish the type of stroke style based on your movement. Do note that whilst swimming the touchscreen will be inactive, but you can simply raise your arm above water to check in on real-time progress. The tracking Data is synced to Apple's Activity app, but there are a handful of third-party swimming tracking apps that also support and add to the swim tracking features for more advanced users.
The Apple's Series 4 takes all the swimming abilities that worked from the Series 2 and improves upon it with a way better processor and a 4G LTE cellular connection for unparalleled connectivity, should you need to receive a call in between laps because why not. There is also an inbuilt GPS, too. To be honest Apple's swimming pool and open swim tracking is some of the best we have used after the Garmin Vivoactive 3 Music.
Best cellular connectivity
If you want standalone smartwatch there is no one else that's offering better right now of course apart from the more expensive Apple watch series 5. However, we think the difference isn't that great to go for an upgrade. Although Apple was late with a standalone smartwatch it definitely made sure to take time developing the best standalone smartwatch on the market with the Apple watch series 4. There is an in-built e-SIM that will let you receive and make calls and even stream apple music right from your wrist!
Versatile Look
If you want something that looks aesthetic and can be used at various place looks nowhere else. The Apple watch series 4 is perfect for you as it has a whole range of watch faces that can be easily customized. Also, the Explorer 4 makes it super easy to customize the digital face. You can also get a wide range of bands from third-party that no other smartwatch brand can provide right now.
Drawbacks but not dealbreakers:
Low Battery life
Other than being pricey the Apple watch series 5 doesn't have the best battery life. In fact, it's got terrible talk-time of only 1 hour but again it isn't a replacement for your smartwatch it's a smart alternative.
Costly to use
If you are going to use the cellular feature which is probably why you are getting the watch you have to pay an extra 10$ a month to use the 4GLTE on your Apple series 4 watch which makes sense it is basically a separate sim that you will be using to make and receive calls along with browsing the internet.
4. Samsung Galaxy Watch Active – Budget Waterproof Smartwatch For Swimming
Reason to buy: You're an Android user and want something that works like a smartwatch and is also great for sports tracking and more importantly can be used underwater. You also don't want to shell out a bomb on your smartwatch.
The Samsung Galaxy Watch Active is a good smartwatch – but good in the sense of average not luxury like the Garmin and Apple. It does almost exactly what its predecessor could do but in a slightly sleeker and more water-resistant kind of way, but lowers the battery life somewhat. With the older model disappearing from the shelves, this is still the best Samsung watch… but not much of a step forward.
Waterproof rating: 5 ATM (50m), Pool and open water swim tracking: Pool only
The Samsung Galaxy Watch Active can now be taken with you whilst swimming, and you will also be able to use Samsung's own swimming tracking software or download something from its partner the Speedo On app instead. You now have the ability to track your heart rate underwater using the Sport's heart rate sensor that protrudes a little from the back to keep it locked onto the skin
There is also a dedicated swim tracking feature. This means you can view key metrics like distance, strokes, lap time and SWOLF to measure efficiency whilst swimming. You can also view this in real-time from the 1.2-inch Super AMOLED display. Samsung has tied up with sports giants like Speedo and its On to take its swimming features to another level, but this is another smartwatch that's built for the pool and doesn't offer open water tracking.
Design and Look
I like the look of the Samsung Galaxy Watch Active but I'll totally understand why people may prefer another look especially the S3. The issue is that the square-circle is a little different and less conventional and doesn't give off that good old classic watch look. There is no arguing that the 42.9mm case is more reasonable than the hefty one on the S3.
If anyone is the master of wearable screens it's Samsung. With a gorgeous 1.2-inch super AMOLED display on the Samsung Galaxy Watch Active and a 360 x 360 resolution with a vibrant 302ppi, protected by Corning Gorilla Glass 3 we have to say it has one of the best screen displays in the wearable market.
Health and fitness tracking
Health and fitness are huge in the Samsung Galaxy Watch Active and Samsung's latest products come packing heavy in the sports department!
Just like the Apple Watch – and unlike Android wearable– Samsung's smartwatches are heavily integrated into the Samsung Health ecosystem. This means you will probably spend a lot of time in Samsung's app. You can also opt for other options too including Under Armour's suite of apps which are quite good and others like MapMyFitness, Endomondo, and MyFitnessPal.
Everyday tracking: The Sport is all about daily wellness as well it will continuously track your heart rate, steps, floors climbed and calories burned throughout out the day to help you meet your everyday goal.s
On a walk? The Samsung Galaxy Watch Active is great at auto-tracking your activities in the background, and you'll see them all registered later in the Samsung Health app, while the watch will give you a little message of encouragement as you strut the pavement.
Battery life
Battery life is one of the Gear S3's sucker punches, and it's certainly good on the Sport too. Samsung claims between three and four days, but that drops to 14 hours with GPS – which has proven to be about right in testing. It feels like a real luxury to not have to charge a smartwatch of this level every day, and right now Samsung and Fitbit are putting Apple and the Android Wear cartel to shame.
Other of its smart features include Samsung Pay, 4G of memory a massive 3000mAh battery to give you quite a few days of play time with offline Spotify Music support. There's also that great rotating bezel and Tizen continues to run the software show as well.
5. Fitbit Ionic – Best Waterproof Smartwatch For Fitness
No products found.
No products found.
No products found.
Reason to buy: You need a smartwatch that is waterproof and something that is designed for sports. You need the highly specific tracking features and support for customization as per your fitness jokes.
Waterproof rating: 5 ATM (50m) | Pool and open water swim tracking: Pool only
Fitbit Ionic Review
Waterproof details: The Fitbit Flex 2 was the only swim-proof wearable until the Fitbit Ionic came out. While both watches are built for the swimming if we had to choose we would opt for the more sportier looking Ionic when it's time for some swimming action. It takes everything we loved about the Fitbit Flex 2's swim tracking and takes it to another level with a very nice display that can be used to display your statistics in real time. (even whilst swimming)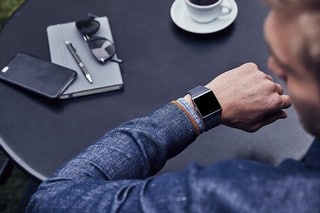 Best Waterproof Smartwatch Buyer's Guide 2022
The good news is major brands like Apple, Samsung, Fitbit and now also Google has started making waterproofing a must for their smartwatches. This is obviously to ensure they're fit for use in water! Although it isn't quite where we are now slowly starting to see brands develop smartwatches that can be used to a certain extent underwater.
So are these smartwatches Waterproof or water resistant?
This is the big controversial question and arguably one that creates the most confusion and can cause some owners of wearables to find themselves in unfortunate situations. That's because these two terms are very different and there's no clear definition of the two terms.
Water resistant is regarded as the lowest level of protection and essentially implies that the smartwatch is designed to make it difficult for water to infiltrate and not prevent it from entering the device! So essentially your smartwatch is not waterproof if it's got the "Water resistant" tag on it.
Waterproof should imply that something is impervious to water. The issue is that there is no established industry standard to classify something is really waterproof or not. That is why you tend to see some products labeled as waterproof, but in fact, they aren't! That's why things get tricky.
How to know if a device is truly Waterproof?
Most of the big player in tech right now like Apple, Garmin, Samsung have waterproof smartwatches you need to look for the Waterproof rating to check if the products are really waterproof the most common rating on the waterproof watches are 5 ATM (50m).
Also added bonus is that along with waterproofing that can better fend off water particles from damaging the body, these smartwatches will also track your activity whilst swimming too, letting you view data via a real-time tracker on your smartwatch.
How we chose the best waterproof smartwatch
Before we dive into the detailed smartwatch reviews we thought we would talk about the key metrics we used to compare our smartwatches and how each metric is important. This will also give you a good idea as to what makes a good waterproof of the smartwatch to help you make the most rational buying decision.
So the most important features to look for in a waterproof smartwatch
Battery life:

Most of the latest smartwatches today are replacements to the mobile phone they have features like cellular connectivity, GPS, health/fitness tracking and are now even waterproof. All this sounds really good until the juice runs out as all these features would imply a great deal of power usage hence without a great battery your fancy waterproof smartwatch will not stand the test of time (pun intended) hence it's important to make sure your smartwatch has a good long battery life.

Waterproof capacity: This one's obvious but it's important that the smartwatch is actually usable under water this is defined by the waterproof rating usually about 50 meters is what's ideal and the best in the market currently.
Connectivity: This is dependent on what connectivity you are paying for that is 3G, 4G LTE or WIFI. However, without the capacity for a 4GLTE network, you won't be able to use it anyways so it's important to look for this when getting a smartwatch.
Hardware: Being able to look aesthetic and connect to 4G cellular is not enough it is as important to function without pesky lag and thus we chose our top picks based on testing for best performance.

Moreover, if you will be using your device underwater the last thing you want is a laggy device.

Display:

You need a good display to be able to articulate and understand the display for your standalone smartwatch to truly be great. Look for customizations on the watch face, materials it is made of and the resolution. You're looking for something that looks vibrant and crisp.

Third-party app support: This is often an overlooked feature by most smartwatch buyers who only regret it after use. There are brands like Fitbit that have only 500 apps on their app store and then there's apple with thousands obviously you want something like the latter that will have a whole bunch of app options to choose from.
Tracking for fitness/health: This is a very important feature to some whereas to others it may not be simply put if you're into sport or are concerned about your health it would help if your wearable supports highly accurate fitness tracking and other health tracking options. Moreover, if your smartwatch is waterproof you want to look for something that can track your laps in the pool because why not right?
Found your new waterproof smartwatch?
This complete our comprehensive review of the best waterproof smartwatches in 2022 remember. We hope by now you are well aware of the difference between a waterproof watch and a water-resistant watch. Remember as always pick a smartwatch based on your requirement and not based on the hype over a specific brand. Every brand and watch is good in its own way it is your decision to figure out what you want to use it for and how much you can afford to pay for it.
Read Next:
Last update on 2022-10-07 / Affiliate links / Images from Amazon Product Advertising API