In today's digital age, where everything is online, there's a high chance you might have come across Reddit or at least heard of it. Reddit is the self-proclaimed "front page of the internet". While this claim might be debatable there's no denying that Reddit is one of the most popular sites worldwide. According to Alexa Rankings, Reddit is the 6th most popular site in the US and the 20th most popular site globally. Reddit has got something for everyone. Reddit is divided into different subreddits and there's a subreddit for almost everything.
So for these reasons and many other reasons, Reddit is the perfect place to ask for any kind of recommendation. In this article we will focus on the VPNs that are regularly recommended on Reddit. We will see what others have to say about their favorite VPN. We will also check out the features of that VPN and see for ourselves how good those VPNs are.
TLDR; If you're in a hurry NordVPN is the Best VPN according to reddit! Click The Button below and sign up for NordVPN for FREE With A 30-day Money Back Guarantee!
Click Here To Get 70% OFF NordVPN
Choosing the Best VPN
Before we begin looking at the best VPNs here's a guide from u/ThatOnePrivacyGuy on Reddit. This is a very well formed guide on what to consider when choosing a VPN. You can read it here: That One Privacy Guy's – Guide to Choosing the Best VPN
I will try and give a little gist of what he has discussed in his post. He explained why you need a VPN on the basis of different use cases.
**These are all u/ThatOnePrivacyGuy's opinion and I have just written a summary of his post
The key points while choosing a VPN are:
Trust: When you use a VPN for privacy, you are relying on some other third party for protecting your privacy. The VPN provider you opt for will know everything that you do while you are online and it's completely up to them what they do with your data. So the VPN should be competent enough to be able to protect you from all existing and even new online threats.
Vpn Affiliates: Most reviewers will be affiliate partners with a VPN but that doesn't mean that everyone who uses an affiliate is biased. "If you choose a company with an affiliate program, choose one that expects and enforces good behavior from their reselling partners."
Jurisdiction: There are a few countries that do mass surveillance and spy on their own citizens and they get away with it. These countries also spy on each other, and "swap notes to bypass governmental restrictions on power." So if a server you are using is located in one of these countries, chances are that they will try and sniff on your data in the name of national security. So your privacy also depends on where a server is located and you should try and avoid countries with limited internet freedom.
Logging: The VPN you are using can still track your online activities and see what you are doing. There are VPNs that log the users' metadata. Any VPN that claims that they are not logging any user data is probably lying. They might also be selling your data to third parties. So while choosing a VPN, you should keep in mind the data they log. "Choose a service that specifically states that they do not keep logs, AND which types they do not keep."
Payments and Communication: If privacy is your key concern then you should opt for a service that has the option to pay using Cryptocurrencies or gift cards. These provide you better anonymity. You should also try and avoid services that ask for personal information other than your email address cause chances are they might be recording that and sell it to third parties.
Protocols: There are multiple protocols that a VPN uses to establish your connection to a secure tunnel. Some protocols are more secure than others. So you should choose one that is open source cause the availability of the source code to everyone means that the vulnerabilities get patched rather quickly. Choose a VPN that supports OpenVPN and try and avoid PPTP protocol.
DNS and IPv6 Leaks: When you use a VPN your Internet Protocol (IP) Address gets masked. Its the responsibility of that service to make sure your identity is protected and is not leaked at all costs. Choosing a VPN that has its own DNS servers can help that cause. you should still test and make sure there is no DNS leak.
Encryption: Finally you should also take a look at the encryption level of a VPN. Go for a VPN that has a strong encryption method. This will also help your cause of staying safe online as a strong encryption will be even harder to decrypt.
Security: Most of the points discussed above are applicable to your security measures. The Jurisdiction, protocols used, the encryption level, the use of their own DNS server, the amount of logging and mode of payments all decide to what extent you are secure. Choose a VPN keeping all these in mind.
UN-GEOBLOCKING: Many users these days use a VPN to access content that is blocked in their region but is available in a different region. this includes streaming services like Netflix, Amazon Prime Video, Hulu, etc. So a VPN capable of unblocking these restrictions and also has a large no of server locations should be preferred.
Now that we have established what one should look for in a VPN, let us see why one shouldn't use a free VPN.
Reasons not to use a free VPN
Most Redditors had different opinions about what the best VPN is and why you should choose it. However when it came to choosing a free VPN, they all had the same answer: NO. This is because nothing is actually free. You may not be paying any money but that's because, for a free VPN provider, you are the product. They will log all your activity and then sell it to the highest third-party bidder. So you should try and stay as far as you can from a free VPN.
With all technical aspects out of the way let's jump to the best part. Here we will look at the best VPNs that are recommended by the Redditors. We will see what they have to say about the VPN. We will also check how the VPN performs concerning the points we discussed above. So let us look at the best VPNs according to Reddit.
Best VPN Reddit
1. NordVPN – Best VPN According to Reddit 2023
NordVPN is one of the most recommended VPNs on Reddit. Multiple users have shared their experience of using NordVPN. here's what Redditors had to say about NordVPN.
Click Here To Get 70% OFF NordVPN
What Redditors say about NordVPN:
u/IAmMohit: "Nord VPN. Been using it for three years. Very satisfied. Has dedicated servers for Netflix."

u/mdkb: "I am in Aus and went for NordVPN after some research, and though I found it a bit fiddly at first, like I have to keep changing servers almost every day and hunt for something that works, even to get simple traffic or a ping working. It seems pretty good once I find a country that is working. speeds can vary but its working ok."

u/Naturist02: "I run NordVPN on Windows, MAC, and Linux Mint. I love it. Install NordVPN via the Terrminal on Linux. . It's easier to use. Also if you run it in Terminal it only works with the TCP connections."

u/monk12314: "I love Nord but a few notes: amazon, Netflix, and Hulu may not work for you (amazon never works for me no matter server (in us)) and I'd move away from Google as they have those annoying recaptcha every time I use them. Other than that Amazing service! Really don't let those negatives move you away I've loved them for 2 years already."
Features
Kill Switch: If your VPN connection is ever interrupted or if the connection fails, NordVPN will make sure to immediately stop any kind of traffic from either entering or leaving your device. So your personal information including your IP address will not be exposed to your ISP or any other prying eyes.
Private DNS: NordVPN uses its own private Domain Names System(DNS). This means all the DNS queries of the users will go through an encrypted tunnel. These queries are then resolved on the same VPN server the user is connected to. So there will be no activity logs, no connection logs, no DNS blocking and no third parties.
Advanced Encryption Standard (AES): NordVPN uses AES encryption in all their connections. They use 256-bit key encryption along with AES. They also use a 4096-bit RSA key to privately communicate with all your devices.
Double VPN: NordVPN will pass your data through multiple servers. It will encrypt your data at every sever. So all your data is protected with an extra layer of encryption which makes it even harder to decrypt.
Strict No log Policy: NordVPN claims that they don't log any of your online activity. They do not store connection timestamps, session information, used bandwidth, traffic data, IP addresses, or other data.
Protocols: NordVPN supports most of the common protocols. These include
OpenVPN
IKEv2/IPsec
L2TP/IPsec
PPTP
SSTP.
Pricing
NordVPN has 3 different subscription plans. They are:
1 month Plan: This is the shortest and the most costly plan available. It is priced at $ 11.95 and is billed every month. At this rate a one-year subscription will cost $ 143.50 which is costly.
1 year Plan: This is a more affordable plan. It is priced at $ 6.99 per month. The total price for this plan is $ 83.88 which gives a saving of $ 59.52. This plan is billed once every year.
2 year Plan: This is the ideal plan for most of the viewers. It is priced at $ 4.99 per month making the total price at $ 119.76 for 2 years. This gives a total saving of 58 % i.e $ 167.04 over a period of 2 years. This plan is billed once every two years.
3 year Plan: This is the longest and the most affordable plan available. It is priced at $ 3.49 per month. The total cost of this plan is $ 125.64 which gives a total saving of 70 % i.e $ 304.56 over a period of 3 years. This plan is billed once every three years.
Click Here To Get 70% OFF NordVPN
Pros
Military-grade Encryption
Great User Interface
Can be used in up to six simultaneous devices at a time
Slightly lower prices compared to other VPNs
30 days money-back guarantee
Cons
NordVPN doesn't have a split tunneling feature
With increasing popularity a majority of its servers are overloaded
Way too much advertising
Reported leak prevention issues
Bottom line: NordVPN is one of the most popular VPNs and is widely recommended by Redditors. It is considered one of the big names in the VPN industry. However, users have started to face a few problems recently due to its overloaded servers. NordVPN needs to take care of that. Otherwise it's still a great VPN.
2. Mullad VPN – Popular VPN Among Redditors
What Redditors say about Mullad VPN:
u/Criminales78: I'm a customer since 2015, I've never been disappointed by them. I use them mainly for privacy reasons but I do torrent too and I get full speed (even better when you use WireGuard), I really like everything about them. If you really want a fast and privacy-oriented VPN, then you found the correct one (and they have a refund if something doesn't work for you).

u/motonprail: In my opinion (and I am a customer of theirs) they are amongst the most trusted VPN providers. To some people they appear to be a small fish, but I'd argue that's largely because they get a lot less attention, due to the fact they neither pay for reviews nor have an affiliate program at all. However, their focus is clearly on privacy, not on top speed. I don't need that, so I'm a very happy customer, but it is worth mentioning.

u/PaintballTek: Been using them for a while as well, I mainly just do it for torrenting and have no problems and the DL speeds are the same as without (though my net speed isn't great, to begin with due to location). Love the way they handle their accounts for privacy concerns too.

u/horstenegger: We've pretty much tried them all and stuck with Mullvad for both on privacy and performance reasons. Obviously this may be location dependent (we're in Europe) but can't imagine their WireGuard protocol would disappoint in performance anywhere. Been using it for over a year on all devices now without even noticing it.
Mullvad VPN Features
Encryption: Mullvad uses a military-level 256-bit AES encryption. This is almost impossible to decrypt.
Automatic Kill Switch: Mullvad's apps have an automatic kill switch feature. So in case your VPN connection fails, this prevents unprotected data from leaving your network.
Strong Network Protocols: Mullvad supports the following protocols
No IP Leaks: Mullavad VPN has its own DNS server. Your IP address is connected through a secure tunnel and hence it is safe as there are no IP Leaks.
Pros
Strict no-logging policy
Secure encryption
Great speed
Network Kill-switch
P2P Torrenting supported
3-hour free trial and 30 days money-back guarantee
Cons
Located in Sweden one of the member countries of the 14 eyes
Not very user-friendly
No live chat support
3. Surfshark VPN – Best Budget VPN According To Reddit
Get 83% Discount on Surfshark VPN
What Redditors say about Surfshark
u/Willingplane: I use Surfshark and no problem with Netflix and a number of other services, but haven't been able to get it to work with Amazon Prime video service.

Have it installed on 16 devices, have been using for over a month and no crashes either, but don't torrent anyway.

u/n1ght_w1ng08: I'm also using Surfshark, but I setup OpenVPN on DDWRT. I agree with you there are occasional lags with the Windows App. But the Android one is stable.

u/HollyMullvad: First time surfshark user here. Using it for some days now, and i like it! On android i'm using their client and with the help of android 9.0 killswitch is possible. On my mac, i'm using Viscosity app to handle it using openvpn config files, so i can select specific servers, and it looks better on MACOS. also using littlesnitch to handle as a killswitch
Surfshark VPN Features
Strict no-logging policy: Surfshark has a really strict no-logging policy. They don't collect any personal information. This includes:
IP address
Browsing history
Used bandwidth
Session information
Network traffic
Connection timestamps
The only Personal information they collect are:
Email address and encrypted password
Basic billing information and order history
Network Protocols: Surfshark supports the following protocols.
IKEv2
OpenVPN
Shadowsocks
Data encryption: Surfshark uses Advanced Encryption Standard (AES) encryption to encrypt all user's connections. They use a 256-bit key for this. they also use a 2048-bit RSA key to privately communicate with all your devices.
Private DNS: Surfshark uses a private Domain Name System(DNS). This means the DNS queries of the users go through an encrypted tunnel. This is then resolved on the same VPN server the user is connected to.
VPN Kill Switch: Surfshark also has a VPN Kill Switch that blocks all traffic from going in and out of the network. This takes place every time the VPN connection is interrupted.
Surfshark has the following plans:
Monthly: This plan costs $ 11.95. It is billed monthly and costs $ 143.40 for a full year.
1 Year Plan: The plan costs a total of $ 71.88. The per month cost for this plan is $ 5.99. This plan accounts for a 50 % saving which is a total of $ 71.52. This plan is billed once every year.
2 Year Plan: At $ 47.76 for 2 years this is as good a deal anyone can ever get. The per month cost for this plan is an unbelievable $ 1.99. The plan is billed once in 2 years.
Get 83% Discount on Surfshark VPN
Pros
Very affordable plans
Great live chat support
No Logging Policy
Torrenting/P2P Supported
Strong VPN Protocols and Encryption
Built-in Kill Switch Feature
Unlimited Simultaneous Connections
Cons
No Trial for the desktop app
Lack of details in the Privacy policy
Mediocre Support Site
Kill switch has some issues issues
4. Proton VPN – Only Free VPN Recommended By Reddit Users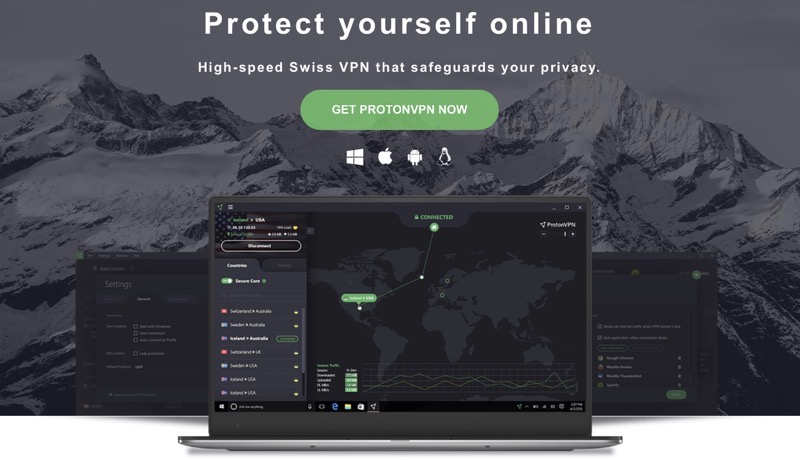 What Redditors say about Proton VPN
u/Blackshiny: I've been using ProtonVPN for a few weeks now and am beyond happy how good the speed and the stability of the service is. Props to the whole team and developers!

u/foshi22le: I trust Protonmail/VPN much more than my Government or ISP. My Government stores all of our meta-data for 2 years. Apparently more than just the Government now has access to that data, after promises from the Government it will only be available to law enforcement.

u/twillrose47: I like Proton a lot. Clean interface, good speed, lots of options – P2P+killswitch+SecureCore. If you want to trial it, you get a week for free by signing up for a protonmail account.
ProtonVPN Features
Strong Encryption: ProtonVPN uses the highest strength encryption to protect your Internet connection. All network traffic is encrypted with AES-256 along with a 4096-bit RSA Key.
Forward Secrecy: The traffic encrypted by Proton VPN cannot be captured and decrypted in case there is a compromised encryption key. A new encryption key is generated for every connection, so a key is used only once for a single session.
Strong Protocols: Proton VPN uses protocols that are known to be secure. These are:
ProtonVPN does not use PPTP and L2TP/IPSec, as they are not that reliable anymore.
Swiss Based: ProtonVPN is based in Switzerland and is protected by some of the world's strongest privacy laws. It remains outside the jurisdiction of the US and EU. So they won't be forced to spy on their users.
Physical Security: ProtonVPN has a Secure Core server that is very protected which ensures their security isn't compromised. Their servers in Sweden are located in an underground data center. They ship their own equipment and hence ensure that their servers remain secure even at the hardware level.
No Logs Policy: ProtonVPN is not obligated to save any user connection logs. This allows them to ensure that the browsing activities of their users remain secure and won't be turned over to any third-parties.
DNS Leak Prevention: ProtonVPN also protects its users' DNS queries. They do this by routing their DNS queries through an encrypted tunnel. They also ensure that the users' activities and identities aren't compromised by a DNS leak.
Kill Switch and Always-on VPN: ProtonVPN comes with a Kill Switch feature. So if there's a scenario where your connection is interrupted for the VPN server, Kill Switch blocks all network traffic from leaving the network. These protect the user from compromising their privacy in case of a network error and make sure their true IP address isn't revealed.
Tor over VPN: ProtonVPN has built-in Tor support. So all of the users' traffic is routed through the Tor anonymity network. This also enables users to access dark web sites and Onion sites without compromising their privacy.
ProtonVPN has the following plans:
Free Plan: This is the only free plan available. It has the following features: 3 Countries,1 Device and Medium Speed
Basic Plan: This plan costs 4€/mo and 48 € yearly. So you save 12 € if you opt for the yearly plan. It has the following features: All Countries, 2 Devices, Speed: Highest, P2P
Plus Plan: This offers the best value among all plans that ProtonVPN has to offer. This plan costs 8€/mo and 96 € yearly. So you save 24 € if you opt for the yearly plan. It has the following features: All Countries, 5 Devices, Speed: Highest, P2P, Plus Servers, Secure Core, Tor Servers, Secure Streaming
Visionary: This is the highest plan ProtonVPN has to offer. This plan costs 24€/mo and 288 € yearly. So you save 72 € if you opt for the yearly plan. It has the following features: All Countries, 10 Devices, Speed: Highest, P2P, Plus Servers, Secure Core , Tor Servers, Secure Streaming, ProtonMail Visionary included
Pros
Flexible, and affordable low-cost plans.
Excellent privacy policies.
Intuitive User Interface
Multi-hop VPN
Tor connections.
Supports P2P connections.
Free plan with unlimited bandwidth
Open-source apps
Cons
Performance issues in some locations
Very unresponsive email support
Few number of servers and locations.
The only paid version has full access to all servers and features
5. ExpressVPN – Pricey But High Performance VPN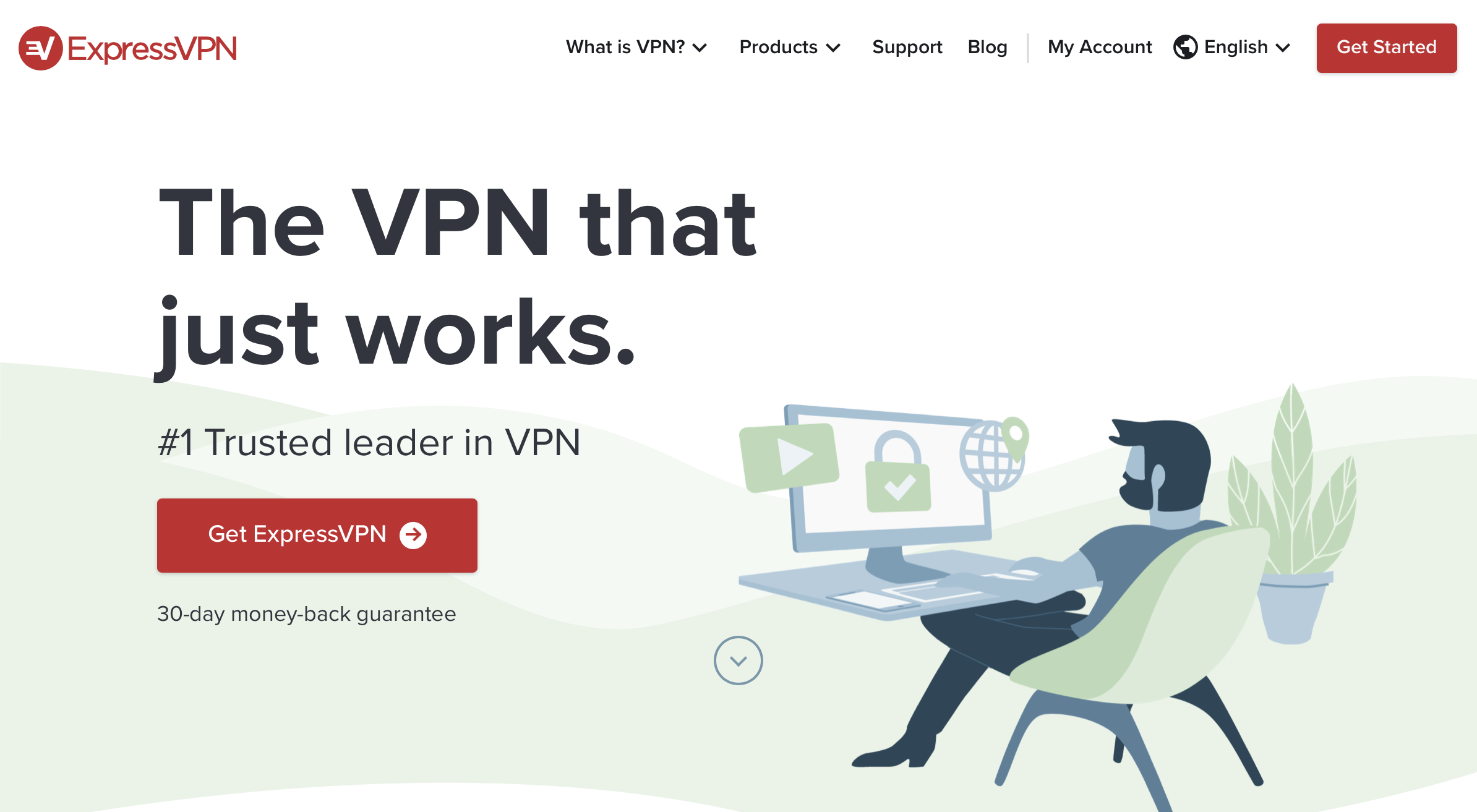 Click The Button below and sign up for ExpressVPN for FREE With A 30-day Money Back Guarantee!
Get 30 days Free Trial of ExpressVPN
What Redditors say about ExpressVPN
u/danielsuarez369: ExpressVPN is probably the best VPN out there. Honestly stay away from VPNs like PIA.

u/Cast87: My 12 month subscription (+3 months free) is coming to an end this month and I was just looking to see if there was a cheaper VPN available. I guess I'll stick with expressVPN, they might be more expensive but you pay for quality. Never had a problem with it, running on W7, W10 and Android.

u/TommyJarvis12: Yep, I have zero complaints with ExpressVPN. I've been using it for about 6 months now. You get 30 days free too.
ExpressVPN Features
Network Protocols: ExpressVPN supports the following protocols
OpenVPN with UDP
OpenVPN with TCP
L2TP/IPsec
PPTP
IP address Masking: In order to connect your device to the internet ExpressVPN uses an encrypted tunnel. ExpressVPN also masks the users' IP addresses with their own IP addresses. This makes it impossible to trace the users' internet activity back to them.
Network Lock: ExpressVPN comes with a Network Lock feature. This is nothing but a fancy name for Kill Switch. So whenever your VPN connection is disturbed, Network Lock comes into play. It blocks all internet traffic. This prevents your IP from being exposed.
Zero-knowledge DNS: ExpressVPN has its own DNS that it runs on each of its servers. That means that your activities are totally private. This is because your personally identifiable data is never stored on any server. So there will be no activity logs, no connection logs, no DNS blocking and no third parties.
VPN split tunneling: This is a feature using which ExpressVPN excludes certain traffic from the protection of its VPN encryption. So using Split Tunneling you protect only the traffic that you need to protect.
Best-in-class Protection: ExpressVPN uses AES (Advanced Encryption Standard) with 256-bit keys to encrypt your information. Also known as AES-256, it is used by security experts worldwide to protect classified information. This means that your data is totally safe with ExpressVPN
Bypass ISP throttling: ExpressVPN also lets you bypass the throttling that ISPs impose. It lets you use the full bandwidth no matter how many times your ISP throttles your speed.
ExpressVPN has three different plans:
Monthly: This is priced at $12.95 and is the most expensive among all its plans
6-month plan: This plan costs $59.95 and is billed once per 6 months. The per month cost for this plan is $9.99
15-month plan: This is their most popular plan. It costs $99.5 and is billed once in 15 months. The per month cost for this plan is $6.67.
Click The Button below and sign up for ExpressVPN for FREE With A 30-day Money Back Guarantee!
Get 30 days Free Trial of ExpressVPN
Pros
Large number of servers in 94 countries
Great customer support
Superfast downloads on International connections.
P2P and Torrent supported
Client app for all major platforms
Simple and easy to use User Interface.
Strict No-logs policy.
Cons
Expensive Plans
Android app supports only OpenVPN protocol
So What's Does Reddit Consider to Be the Best VPN In 2023?
Conclusion: After analyzing some of the top recommendations from fellow Redditors, here's the conclusion I came to.
So with all this information, we hope you will be able to make a great decision and choose the VPN that suits you most.
Read Next: