If you are into traveling, or if you are determined to fulfill your globetrotter dreams this year, you are going to be on the lookout for some epic snapshots. Yeah, you could always pull your phone out and get a few clicks, but that will not be the same as clicking with a camera.
But there is a slight issue to this – professional camera equipment can be quite cumbersome to carry because it is heavy. It also has a lot of accessories that go along with it. Even the camera itself is fragile equipment- carrying it in your luggage might not be the wisest thing to do.
So what do you do then? Get yourself a GoPro, of course.
There are a lot of factors/parameters that may determine whether or not you should get a GoPro for your travel purposes. You may wish to record and preserve the memories you make during your travels for your personal archives. Or, you may want to share your adventures with the rest of the world by means of your social media platform. Whatever may be the scenario, if you have made plans to travel in this New Year, getting a GoPro for yourself may just be the push you need to pack your bags and explore the world.
Let us have a look at some of the advantages of getting a GoPro for travel purposes –
Reasons to get a GoPro for travel
GoPros are probably the smallest cameras in the market, but they scarcely fall behind when it comes to their tech makeup.
Probably the best thing about them is their relative ease of use. You don't need to be a pro yourself to operate a GoPro.
A GoPro practically requires nothing to go along with it. You can use it all by itself by strapping it on literally anywhere. That saves you from carrying a lot of extra stuff while traveling.
Since the GoPro is one of the leading choices in cameras, it is pretty easy to find a help center or customer care center in case something goes wrong with your device while you are on the road.
You can also download the GoPro app on your phone or another device to download your pictures straight onto them. This will help to save a lot of time and effort. You do not need to go through the whole ordeal of fishing out the memory card in your camera and then uploading all the pictures onto your device.
GoPros are waterproof, which makes them an excellent choice for people who are invested in water and underwater sports.
Best GoPro for Travel
The GoPro line is so vast that it can be confusing to determine exactly which one you should get for yourself. While most of the GoPros offer you the same basic features, there are some whose features are more nuanced than the others. And depending on the purpose of use, you can select the perfect device for yourself.
Given below are some of the GoPros that will serve some specific purposes better than the rest –
1. GoPro Hero Session – Great Small GoPro For Everyday Shots
If you are not confident about your abilities as a videographer, then this device will come to your use. It is small, it is sturdy, and it has a video quality good enough for you to upload on all your social media. It has a one-button operation system, which makes it super convenient to handle, and the sturdy body of the camera makes it easy for you to maneuver it with ease. It does not have 4K record qualities but can record in 1440p, which is good enough for an amateur.
Pros
It takes stable still photographs, making it a good choice for the price point.
The battery life is impressive.
It can capture 8MP single shots with the press of a button.
Cons
Not the best choice to take pictures in low-light situations.
The WiFi download option may be ineffective on slightly larger files.
2. GoPro Hero 5 Session – Great GoPro Session Upgrade
What's new about the GoPro Hero5 Session? Well, it comes with 4K quality video recording, it's smaller and can take 10 MP shots with the press of a single button. It's a good next step to take if you want to level up from the Hero Session- it certainly provides a more professional and refined video quality. Since it has a ton of hands-free options and can be mounted on literally anywhere, it's a huge hit amongst cyclists and bikers. It corrects the fish-eye distortion that is common in a lot of GoPros, which is another added advantage.
Pros
For the price point, it does a very commendable job.
The battery can last for up to 2 hours, but it does come with a USB charging option.
It can be strapped on the body effectively.
Cons
The microphone is not the best in the world, and may not provide good sound quality.
If you are someone who needs quick recording, the Session might not be fluid in its responses.
3. GoPro Hero 5 Black – Great GoPro for Extreme Adventure Travel
Quite fond of extreme sports and want to record your adventures for the world? You'll need a steady, 4K quality action camera for that- and that's where the Hero5 Black comes in. It shoots in 12 MP RAW, which provides you with extra flexibility at the editor's table. What's more is that it's completely stable, even when you might not be! Since it's heavier than the other products in the range, it's also pretty easy to hold on to- it doesn't slip or slide away. Being waterproof, you can dive up to 33 ft with the camera in hand.
Pros
It can capture stellar Raw still images.
Possible to submerge up to 33′ underwater without any external apparatus.
With the new pro-tune features, you will be able to get more space during editing.
Smooth video and crisp audio recordings.
The GoPro can automatically upload your footage to the Cloud once you have finished editing the footage.
Cons
Digital grain may appear in low light or any other light source apart from direct sunlight.
4. GoPro Hero 4 Black – Cheap GoPro For Travel
If you're trying to compare footage or videos taken on a Hero5 Black and a Hero4 Black, prepare for disappointment. With its 4K resolution and 30 fps frame rate, the video and picture quality on this product is unbelievably good. The 12 MP sensor provides for a fast and efficient mode of capture- one that will leave you impressed. It also has a built-in feature for video trimming, which allows you to trim and store short video clips in your camera immediately.
Pros
Like the Hero5 Black, the Hero4 also has a built-in WiFi and Bluetooth feature that can upload your footage to the GoPro cloud immediately.
The Protone Superview feature can give you movie-quality precision and effect in your videos.
It comes with a QuickCapture feature and an automated low-light mode that allows you to click brilliant pictures even in low light settings.
The camera gets automatically updated.
Cons
The GoPro may get heated up and shut down to cool off in high-performance modes.
It uses battery faster than the models that have come before.
5. GoPro Hero 7 Black – Most Powerful high-end GoPro For Travel
This is a prodigy in the world of GoPros. It has the new HyperSmooth stabilization feature that records high-quality videos in any terrain. It comes with voice control, 4K video resolution, and 12 MP photos. It also provides some other interesting features like Time Warp, slow-motion videos, and the like.
Pros
The Hero7 is tough, compact, and completely waterproof, which makes it a great travel companion.
Easy voice control commands that get the job done hands-free.
Cons
The battery life is really short, which is probably a drawback of having so many features.
There is no preview available for 4K recording.
Picture quality may be slightly grainy in low light situations.
It shuts down occasionally because of overheating, and that can be problematic when you need a continuous recording of events.
GoPro For Travel vs a Traditional DSLR
For anyone who owns a DSLR, a GoPro might not seem like the best option for taking pictures. And that's quite correct- nothing can beat a DSLR when it comes to quality pictures. So, if you're interested in procuring the best pictures under any circumstances, no matter what the setting is, then you should, by all means, opt for a DSLR.
But, there are two very important points that make a GoPro a great travel companion for many. These two are compactness and durability.
It goes without saying that a GoPro is far smaller than a DSLR is. It's probably one of the smallest shooting cameras available in the world. This makes them an effective product to carry around, especially on the road. DSLR cameras are quite heavy- imagine carrying around all that extra weight when you're on a trek, for example.
Nothing can beat a GoPro when it comes to durability. You can throw it into the ocean, and it'll come up unscathed. Because they're so forgiving, it's easy to be carefree about them. DSLRs, on the other hand, are very high tech devices and are equally fragile. You'll never be able to be quite at ease while traveling with a DSLR.
How to choose the best GoPro For Travel ?
Price: Let's be real- none of the GoPros are inexpensive. The question that arises, then, is this- exactly how much money are you willing to spend on them. If you're using the GoPro for everyday shooting- stuff for your social media and the like, then you can get away with a lower-priced model that offers HD quality recording without 4K. However, if you want professional-level shots, or want to use it to record action sports, then you might wish to invest in a slightly upper range model, that'll give you more features and better tech.
Water depth: Almost all GoPros are waterproof- some more than others. This means that some GoPros survive in deeper waters, and are perfect for sports like scuba diving. You only need to invest in GoPros like these if you are involved in such water sports- otherwise, a simple waterproofed model will work just fine for you.
Maximum video resolution: This ties in with our first point. You may not require 4K quality resolution at all, which is when you can invest in a lower-priced GoPro. For professional quality shots, however, 4K resolution is an absolute must.
Maximum photo resolution: This is the same as the video resolution. If you want better quality pictures, there are GoPros that offer a higher frame rate and MP count. Lower range GoPros like the Hero Session and Hero5 Session can take pictures with 8MP and 10MP resolutions, respectively.
Voice control: it's always nice to have the voice control feature on a GoPro, especially if you're using it on the move. If you think you're going to have your hands occupied while filming with the GoPro, always go for the model that has the voice control option.
Touchscreen: Not all GoPros have a touchscreen feature. Whether you need the touchscreen or not will depend on your comfort level. Some people are more comfortable with the button system, while others cannot do without a touchscreen model. In this respect, it essentially boils down to individual preferences.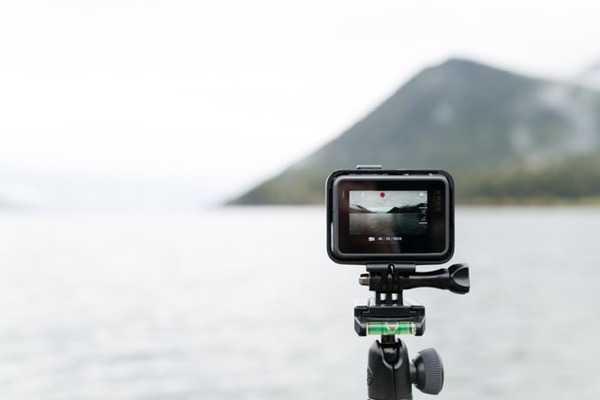 Best GoPro For Travel: Conclusion
In short, it's difficult to top a GoPro when it comes to traveling. Sure, the image quality may not be as refined as that of a DSLR, but the other advantages it offers- compactness, versatility, and durability- make it perfect for a road trip or adventure sports situations. So, if you really want to get something that is going to last you a long time and will serve all your purposes with a single click of a button, you should definitely consider getting a GoPro.
Read Next:
Best Action Camera Gimbal 2021
Last update on 2021-03-23 / Affiliate links / Images from Amazon Product Advertising API