Whether you're an amature vlogger or seriously considering a career in photography/videography, or just a regular person looking to score the best deal on a camera to capture those memories on your trip to Bali, at some point the question has probably popped into your head – Do I buy a DSLR or a GoPro? And which model? So if you're feeling overwhelmed after reading a million articles and can't decide, don't panic because we're here to the rescue.
Let's get right to it and compare our two contenders based on:
Price
Photo
Video
Battery
Size and Weight
Accessories
Ruggedness
Before we get down to specifics let's look at some hot favourites on both sides. On the GoPro side we've got the HERO11 Black, HERO Max and HERO8 Black Mini.
Now for the DSLR fans we've taken a look at some popular DSLR models including the Nikon D3500 (for travel), Canon EOS 90D (for video) and the Nikon D780. We've chosen the Nikon D780 for its versatility and popularity. Alright now let's get down to it.
GoPro vs DSLR
1. GoPro vs DSLR – Price
The HERO11 Black costs around $400 which we feel is more than justified for the features it provides. If you've got a little more to spend, the HERO Max comes in at around $500. The HERO8 Black Mini however costs less than $350 so we recommend just spending a little more and going in for the HERO11 Black model instead.
What Reddit Thinks About This GoPro:
u/Gilbert_Reddit – I have the 8 and it is an absolute monster. One of the lightest/most compact cameras capable of 4k60 or even 1080/240. Stabilization has always impressed and its a camera I still use to this day. The 8 is far more wearable in my opinion as the 11's weight sometimes causes it to droop when I attach it to my bike or a chest mount. It is also more discreet and fits about anywhere.
I also have the 11 and will say it outdoes the 8 in a lot of ways. I didnt think stabilization could get better but this camera really shot up the bar. When walking and recording my kid, a degree of clunkiness would show with the 8 but not anymore with the 11. The sensor is larger so it gives the camera's computer more area to bump around. The UI is so smooth and the camera powers right up to begin shooting (even with quick capture turned off). Timewarp 3.0 allows you to pause your timewarp and actually get audio in your slowed down recording (8 doesn't). The largeness/heaviness of the camera allows for a better handheld experience when I want to try and be cinematic recording my daughter. 10 bit color means it is capturing a billion colors compared to 16 million from the 8, allowing for more contrast and range when editing. 4k120 and 2.7k240 allows for 8x slow motion that I can actually crop and make better effects with in After Effects.
The Nikon D780 however comes in at $2000+ which may be outside your budget. Much more reasonable is the Nikon D3500 which is not just ideal for beginners but is also priced very affordably at $397, almost comparable with some of the GoPro models. Perhaps the middle ground between the two cameras budget wise, can be found in the Canon EOS 90D which costs around $1,199.
In the price department we have a clear winner: The GoPro
2. GoPro vs DSLR – Photo
With a 24MP camera the GoPro HERO11 Black boasts several new improvements. For starters the LiveBurst mode captures images 1.5 seconds before and after you push that button giving you 90 frames to choose from. Images can now be saved in RAW format and if that's not enough the Capture Presets feature allows you to preset about 10 of your favourite image and color settings and switch between them effectively saving precious time in the field and finally the SuperPhoto + Improved HDR gives you the best photos automatically by intelligently applying image processing to the shot.
On the DSLR side however we have the Nikon D780 with a 24.5 MP sensor which boasts a 51 point AF system. It performs well in low light conditions. The D780 can also hit an ISO of 51,200 but let's assume you're an amature and have no idea what all this means. So keeping all the complicated specs aside at the end of the day if you want high quality images (for printing large posters), are interested in landscape photography and have to work in low light conditions your best bet is a DSLR.
Winner: DSLR
3. GoPro vs DSLR – Video
Here's where it gets interesting. The GoPro HERO11 Black can shoot in 5.6k at 60fps and has HyperSmooth 2.0 which is a lifesaver if you're doing anything extreme from action shots to anything bumpy or jittery. It has three modes of stabilization (On, High and Boost) which helps smoothen out those bumps at the cost of a 10% crop of the wide lens angle. The feature can also be used for slo-mo shots at a frame rate of 120fps and even 240fps although boost is limited to 60fps and under. Furthermore, live streaming is now possible in 1080p, perfect for all you social media influencers and TimeWarp 2.0 allows you to speed up or slow down with just a tap to get that surreal Time Warp effect we all just love!
Although you can always use a gimbal and certain DSLRs do have image stabilization when it comes down to it we feel that DSLRs go best with tripods or at least some surface it can be kept steady on. Action shots just don't compare to that of the GoPro and although several DSLRs also now support 4k it's often at lower frame rates.
The GoPro wins this round!
4. GoPro vs DSLR – Battery
The GoPro HERO11 Black uses a removable 1220mAh Lithium-Ion battery that's rechargeable. What this translates to is roughly around 50 minutes when shooting at 2.7k or 4k. If you're shooting in a lower resolution however you could get almost two hours from your battery and there's always the option of carrying around extra batteries to be safe otherwise it's a long 3 hours and 10 minutes until fully charged again.
The Nikon D780 has a battery life that's nothing short of impressive. It can last for about 2,260 exposures (CIPA) which is a huge relief because you won't need to worry about running out of juice while out in the field. This figure is almost a 1000 more than the Nikon D750 but that's because the D780 no longer has an in-built flash. The Nikon D3500 gives you around 1,550 shots which is still pretty good.
DSLRs seem to have the edge here.
5. GoPro vs DSLR – Size and Weight
At just 126g / 0.27 lbs and with dimensions of about 2.61 x 1.91 x 1.12in or 66.3 W x 48.6 H x 28.4 D (mm) the HERO11 Black is perfect for travel. You could just toss it into your bag or slip it into your pocket and you're ready to roll. To make life easier it even has mounts inbuilt. It takes up virtually no space and this makes it the perfect travel companion.
DSLRs on average however weigh between 1.5 to 2 lbs making them a lot more inconvenient for travel. They take up a lot more space depending on the dimensions of your camera and often have bulky accessories that add to the weight.
There's no competition here. The GoPro wins!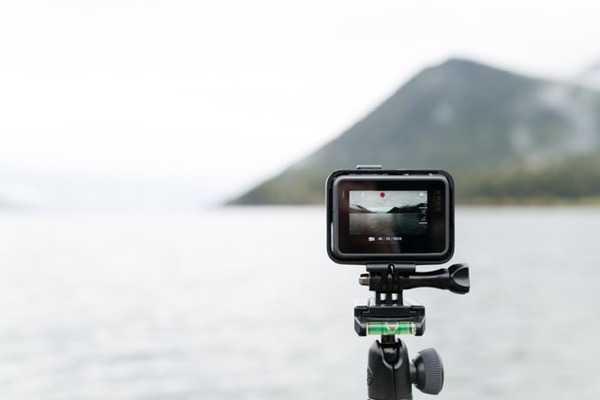 6. GoPro vs DSLR – Accessories
The GoPro HERO11 Black comes with plenty of compatible accessories to help you get that perfect shot! The GoPro 3 Way and Floating Hand Grip are two such essentials. Want to take your camera scuba diving with you? No problem, try the Kupton Waterproof Case which can withstand 60 meters of waterproof depth. There's also various mounts to choose from, be it a Chest Mount or a Suction Cup Mount or even a Head Strap + Quick Clip. The new Light Mod offers brightness from 20 lumens to 200 lumens and the Media Mod which now has a built in directional mic. And for all you vloggers out there the Display Mod has a flip screen so you can see yourself while shooting. The list goes on!
Unlike most of the GoPro accessories which are designed to be small and sleek, most DSLR accessories can be a bit bulky. A few essentials would include an external flash to help with those low light shots. UV Filters which are a must for all your lenses, a lens hood if you happen to be shooting outside to avoid that stray light, vertical grip battery holder which acts as both a grip and a battery holder, and of course the wireless remote control. Some tasks may also require an external microphone and a tripod.
While both GoPros and DSLRs have plenty of accessories there's no real winner here. Accessories are just that, little add ons to help make your pictures or videos better.
7. GoPro vs DSLR – Ruggedness
The HERO11 Black is an action camera, it's built to be rugged. What makes it even better is the fact that it's 33ft or roughly 10m waterproof which means it can be used underwater as well. If you want more you can always purchase a special underwater case which can be used for much deeper depths. You'll also be pleased to know that it now has twice the impact resistance compared with previous models as it now features new Corning Gorilla Glass lens cover.
You definitely do not want to drop your DSLR. In addition to this moisture and dirt can seriously affect the functioning of your camera. Although special weather sealed DSLRs do exist, the average DSLR can't compete in terms of ruggedness.
The GoPro scores another victory!
DSLR vs GoPro Reddit Verdict
To sum it up, it all boils down to what you're looking for. If you're an amature vlogger, big on adventure sports or just looking to get started with a camera you're probably better off with a GoPro. While it's not exactly a professional camera, it offers some brilliant features and has more than enough for the average person. It's pretty simple to learn how to use and should meet all your basic needs. Of course many professionals do use a GoPro, because of it's light weight and superior ruggedness making it perfect to capture anything extreme.
On the other hand if you work as a professional photographer, want to move into nightlife or wedding photography or even if you're looking to take some very good quality images of landscapes your best bet is a DSLR. There are all kinds of lenses for every occasion and the image quality is much better so it can be used for printing in large posters or magazines. The camera itself may not be as rugged but that's not why we're choosing it. It's got a bit of a steep learning curve and may take some getting used to but it'll be worth the effort.
We hope we helped you choose and if you still can't make up your mind, well just get both!
Read Next:
Last update on 2023-06-04 / Affiliate links / Images from Amazon Product Advertising API