TLDR; Unless You Use A VPN, you could end up in big trouble (more on it below) torrenting. NordVPN is the Best VPN for Torrenting! Click The Button below and sign up for NordVPN for FREE With A 30-day Money Back Guarantee!
Click Here To Get 70% OFF NordVPN
Peer-to-peer file sharing technologies have come a long way. I'm remembering the early days of Napster, when we'd wait to trade what seemed like humongous mp3 files. I think many of us would've drowned in depression after Napster's demise, if some of the other technologies such as streaming and torrenting hadn't come to the rescue of every audio and video lover in the world.
I wouldn't want to take us on a long detour by getting into the copyright argument in detail here, but suffice to say that we all want downloadable art. We like our films, music albums, games and books, and not just the affordability part, but even accessibility makes the peer-to-peer technologies very tempting.
After Napster was forced shut, I switched to torrenting for a decade straight – diligently seeding as much as I 'leeched' – before making yet another shift to streaming in the recent years. These days I do both in combination, and for valid reasons too. Neither Netflix, norKodi would get you every film you can dream of. Looking for Stanley Kubrick's 1962 Lolita? I'm afraid turning torrenter is still the best solution. You can be sure someone, somewhere, has the file you crave to download. Can you do it legally? We'll get to that. But first, let's examine this peculiar, extremely simple and desirable technology.
What Is Torrenting?
Torrenting is a P2P (peer-to-peer) technology that frees you of dependency on a single source like a website for a download, instead connecting you to a number of other users who host and share their files.
A pretty straightforward way of downloading files – you download the torrenting client called uTorrent, search for your file in it, find the right peer(s) and begin pulling the bits and bytes in. It helps if you understand the workings of it so you avoid landing with malware on your system (torrenting tips included later in this article), but overall torrenting is one of the most appealing file-swapping technologies in existence.
Torrenting makes it a breeze to manage multiple downloads from multiple sources, and all for free. You can search, pause, resume, adjust your download and upload speeds and restassured that the server will never let you down (because there is no single server supporting it!).
What makes it different from streaming is that firstly, it's a free service, and secondly, you get to keep the file and share it further. But wait, there's just one catch. There's always one, isn't it?
The Lawful & The Awful: Is Torrenting Legal or Not?
The problem is not with torrenting. The BitTorrent protocol, and its official uTorrent client, are very much on the clear side of the legal line. What makes law ring your doorbell (chances are less though of them literally doing that), is copyright. When you use the same torrenting technology to download (or worse, upload) a file that is copyright protected, you are essentially sharing unsanctioned content.
How does that work? It works through 'trackers', some of the popular ones like ThePirateBay and KickassTorrents you've probably heard of. They don't technically host any of these grey-area files, but they search, organize and make accessible all such files in one place, thereby encouraging – enabling – piracy, and yes, making you a pirate in the process.
In case you aren't protecting the privacy of your online activity through a technology like VPN, your ISP (Internet Service Provider) can clearly see you go about torrenting illegal content and can send a warning your way or curb your connection. Then there are copyright trolls – small businesses to which the task of pirate-tracking is outsourced – who can track your private data and, although rare, in some cases even lead to legal action.
Also, as far as legalities go, the degrees of unlawfulness vary depending upon the file in question and the activity associated with it. Think of it like drugs. Snorting a line would get you into trouble, but selling the same powder would make you a thorough criminal. Similarly, you leeching an old copy of Doom is one thing, but you seeding – that is, helping others download – a week-old Tarantino film is like waving from the top of the legally offensive ladder.
What If I Use A Private Tracker?
There are two kinds of trackers that you could use for sharing files. One is the public kind – like KickassTorrents, Demonoid and ThePirateBay – and the other is a private tracker. Both perform the same job of indexing files on the BitTorrent network, just like a search engine does. But while the public trackers are unmoderated, the private ones are exclusive in that they require authentication and even then allow only a specific set of users to download and upload. This results in faster downloads and far better quality, of course, but remember that the law of the land views both as the same – piracy of copyrighted content – whether shared publicly or privately.
How To Stay Safe Torrenting
Pirates being trolled because of illegal trackers sounds like a thriller in its own right, so who's the hero's best friend in this case? That would be a VPN.
A Virtual Private Network protects your privacy in two ways. Firstly, it encrypts your traffic such that neither your ISP nor anyone else (like a hacker or a copyright troll) can monitor your activity. They can't tell what traffic is leaving your computer and where it is headed. Secondly, and somewhat more magically, a VPN re-routes all your traffic through a server shared by hundreds of other users, out in a location of your choice, so that your own IP address changes. This is the main way that a VPN makes you anonymous online.
That said, there are dozens of VPNs available that promise to hide your activity. Some even claim to do this for free, in the meantime logging your activity on the side, lowering your bandwidth and lacking the requisite DNS leak protection. What's more, not all VPNs support torrenting, some are in fact downright anti-torrenting and would be quick to cap your speeds. In such a scenario one should be careful of which VPN to invest in, and for this we recommend ExpressVPN and NordVPN, reviewed in greater detail later in this article.
And before you move on, here's an insider tip that rounds up a VPN's benefits nicely: a VPN would allow you access even to blocked content, just like it does in the case of Netflix's geo-restricted content. As in, even if your local authorities ban a torrent library you needed, all you have to do is connect with a server in a country where it is still up and running!
What If I Torrent Without VPN?
There are several dreary outcomes possible in case you choose to go on torrenting without using a VPN, laying out your online activity for the ISP's open inspection. Here's why it's a best-avoided scenario:
You could get caught: Prosecution is the worst possibility, but thankfully it has become increasingly rare. You wouldn't necessarily land up with a direct lawsuit, primarily because the series of cases where copyright holders sued torrenters (back in the 2000s) mostly backfired. It made college kids look like the victims of millionaires' petty behavior. Nevertheless, don't rule out prosecution completely yet.
You could get trolled: Copyright trolls, like I mentioned earlier, are third parties outsourced by copyright holders to track down pirates. They are small businesses that locate such torrenters of illegal content through their IP addresses and, backed by the copyright holder's legal authority, approach the torrenting pirates. The copyright holder, in some cases, can be Hollywood production companies directly contacting these trolls.
What the trolls then do is contact the torrenters by mail or, sometimes, by going door to door with settlement letters in hand. These letters are mere threats backed by no legal documentation, but they threaten to sue with huge sums whopping over $100,000, andcan rightly make you break into a sweat.
3. You could end up paying hefty settlement: The settlement that the copyright trolls then offer is ridiculously lower than what a court would cost, and even if 50 out of the thousand torrenters they contact respond, it adds up to a swell deal. We're talking amounts up to $3000 though, which is by no means a small number for any of us.
So, what do you do if you get one of these letters? Don't respond. First check who the sender is – if it's your ISP, it means your identity is still unknown to the copyright troll. As far as US law goes, an IP address is not a human being, so you are safe unless you respond and make it easier for the troll to access you directly. If the threats become persistent, I suggest you find yourself a lawyer immediately.
4. You could suffer from ISP penalties: Lastly, at times the ISP itself takes action on its own behalf. It has its reasons for doing so – partly because torrenting gobbles up bandwidth, and partly perhaps because its under pressure from copyright owners – all of which can result in the ISP capping your bandwidth or worse, threatening to hand over your details to a copyright troll. A pain either way, and one you can easily bypass with a VPN.
Are There VPN Alternatives For Torrenting?
There are a couple of alternatives you can avail in case you don't wish to pay bucks for a VPN. Each has its drawbacks though, so make note before you hit the tracker.
Usenet: One relatively safer alternative is Usenet. An SSL-encrypted service that would connect you to a centralized server for downloading files directly. It is more private that torrenting – which requires at least some minimal identification – and obviously gives much faster speeds. However, connecting to a Usenet server comes at the cost of subscription to a Usenet service, which would set you back by anywhere between $10 and $20 a month. Whereas torrenting is free, and even with the additional cost of a VPN sums up cheaper.Also, Usenet suffers from the curse of limited availability – due to limited storage space – which is one worry less with torrents.
Tor: This free, open-source software works a bit differently. It re-routes your traffic through an extensive, worldwide overlay network of volunteer nodes claimed to consist of over 7,000 relays. This means your location is concealed, though there's a stark pitfall – your ISP can still see that you are using Tor. And Tor, as you might know, is notoriously associated with hackers and other assorted criminals.
Peerblock: Peerblock is a desktop firewall intended to filter out the lawful dogs on your tail. It maintains a blacklist of IP addresses tracking your activity online, mainly on P2P networks, and usually includes such notables as copyright trolls, law enforcement agencies and other copyright holders' associates. You can get it for free but to keep that blacklist updated you must pay, and even then it is fairly easy for a troll to dig out your IP address by connecting to the swarm of devices connected to a particular torrent.
Streaming: This has become the most popular alternative, responsible for converting thousands of ex-torrenters to paid services like Netflix or Kodi or unpaid, unsanctioned sources like random websites or free streaming services. Depending upon which country you are streaming in, this could be counted as an acceptably legal activity or outright felony. Even if you are streaming from a pirated source, it happens directly, and hence saves your IP address from being visible to copyright trolls, which makes it safer, except that your big-daddy ISP can still see everything.
How Do I Torrent With A VPN?
The steps to torrent safely using a VPN are simple. Your first task is to find the right VPN – see below for more on our top choices of recommended, credible VPNs – download and install (there's usually a money-replacement guarantee period, so you can try it out first, but you'd still need to download). Then, before connecting to a VPN server, enable the kill switch. Once you are connected (hopefully in a location that's P2P-tolerant), start your torrent client and download the file like you usually do, safe in the knowledge that your traffic is encrypted and your identity unidentifiable.
What Are The Best VPNs To Torrent With?
A good VPN is fundamental to torrenting safely, but what makes a VPN good anyway? Keeping anonymity as the main aim, a good VPN should be encrypting your traffic, be maintaining a strict no-logs policy and be providing you with speeds meant for downloads as fast as they would be if you didn't have a VPN in place. Keeping these important factors in mind, and after having tested most popular vendors specifically for torrenting, we find the following two VPNs to be the best fits for torrenting.
1. NordVPN – Best VPN For Torrenting
NordVPN is amongst the most credible VPN vendors in the game. This Panama-based service comes with solid security features, so that the users can download in peace without worrying about lawyers, hackers and trolls alike.
Get 70%+ Discount With NordVPN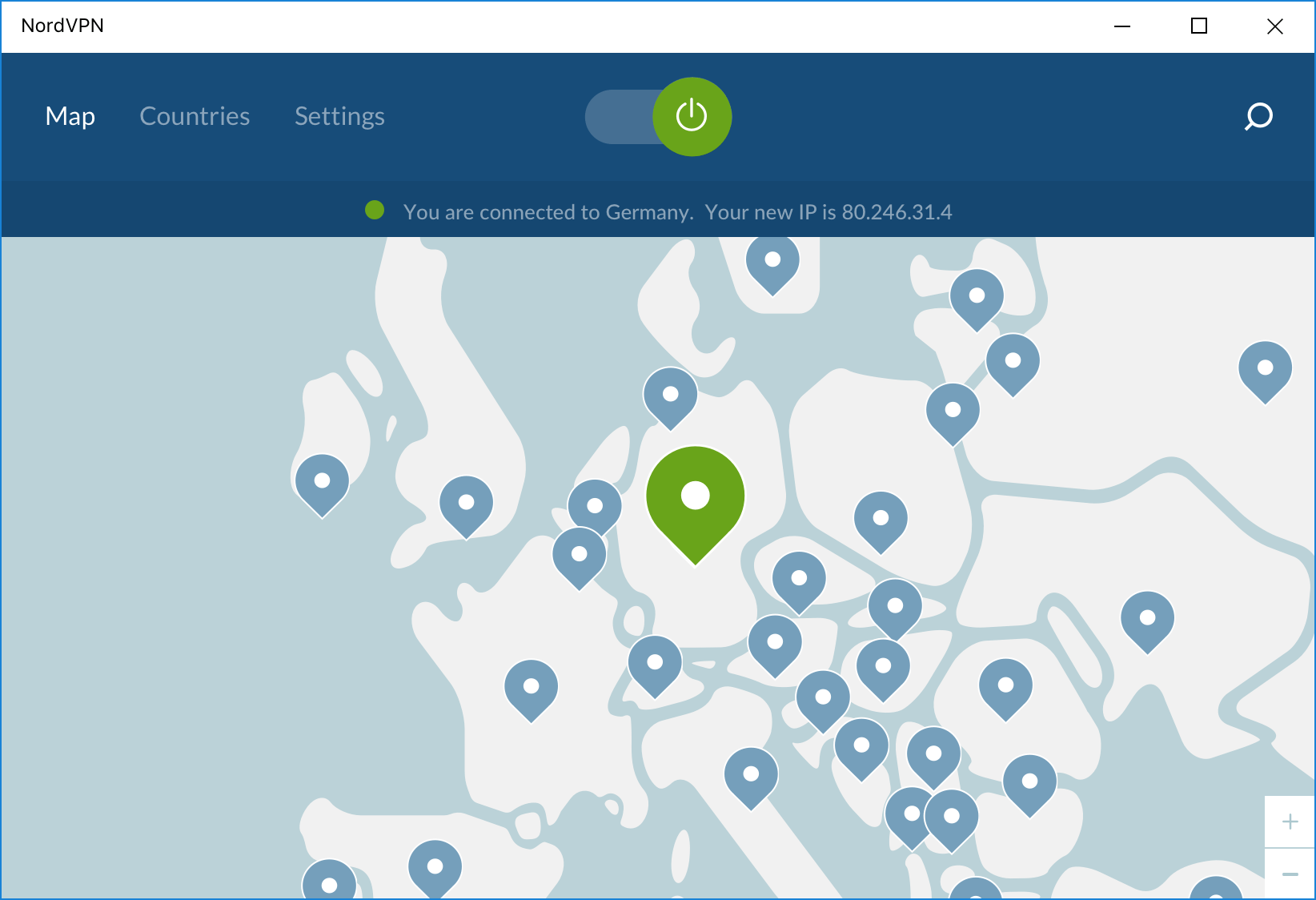 What we like about NordVPN is that it has dedicated servers to support P2P filesharing, and hence torrenting. Altogether, it has possibly the most extensive server network of all VPNs – 5,800 servers in over 58 countries – so you can expect good bandwidth for torrenting in all four corners of the world. NordVPN has a zero-logs policy, a DNS leak protection in place, and best of all, double data protection – the usual 256-bit encryption coupled with additional 2048-bit encryption – with this kind of double encryption you can almost throw caution to the wind.
NordVPN can come off a bit expensive as monthly or annual subscription, but a three-year subscription will cost you $3.49 a month. Now that's not bad considering all the free files you'd have at your disposal to download without a worry. The user interface is a real joy for its ease, includes a kill switch, plus NordVPN is compatible with all operating systems. It lets you connect to 6 devices simultaneously, so the only thing limiting your torrenting experience while using this VPN would be the limit of the ISP's bandwidth itself!
2. ExpressVPN – Most Powerful Torrenting VPN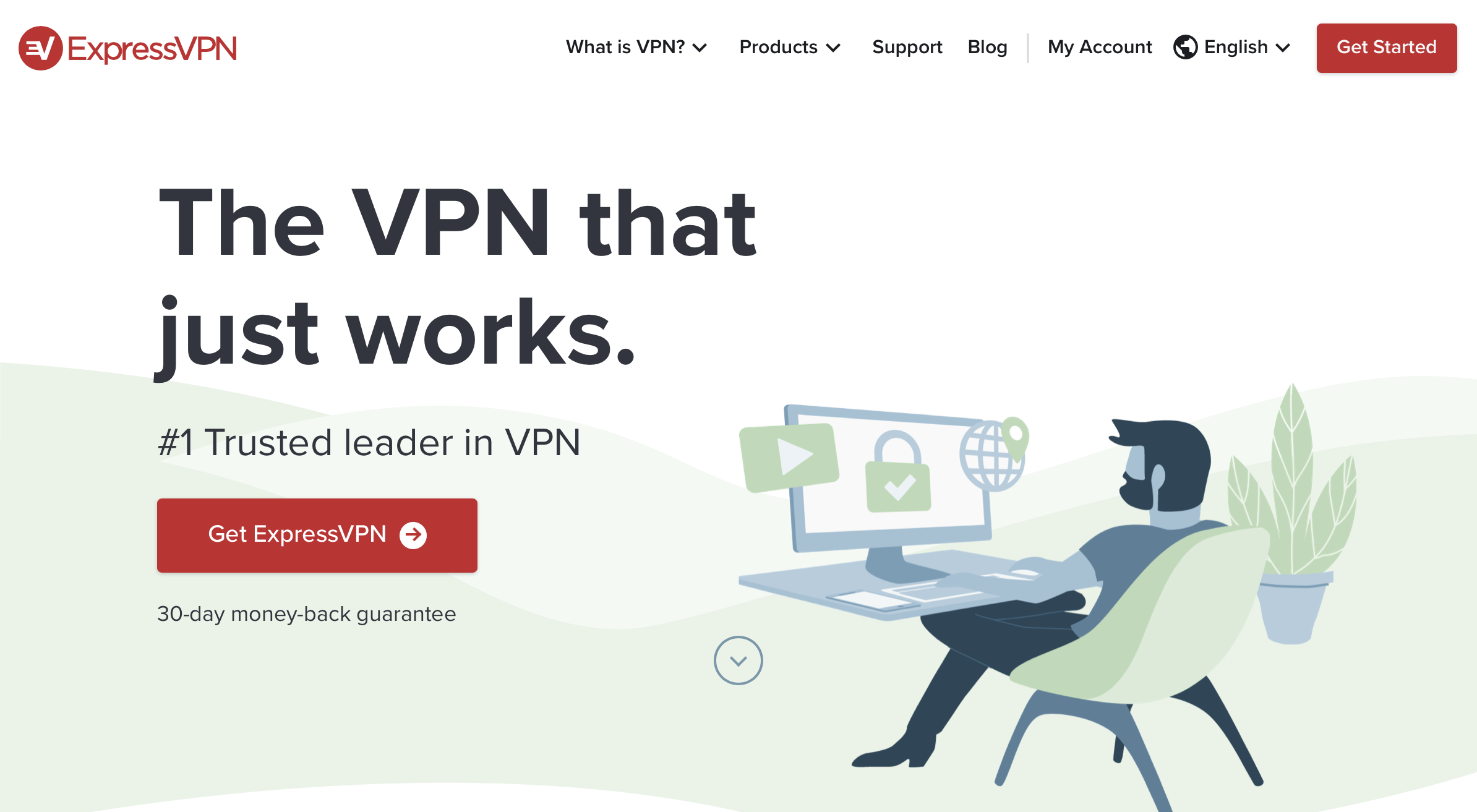 Click The Button below and sign up for ExpressVPN for FREE With A 30-day Money Back Guarantee!
Get 30 days Free Trial of ExpressVPN
I like it when a VPN provider dares to put up an official statement of support for torrenting on its website. ExpressVPN does exactly that. And it delivers on it too – with speeds so good I dare you to look beyond this one for all your VPN needs.
VPN reviews being one of our key focus areas on houseguides.org, we have been testing and analyzing dozens of VPNs regularly over the years. And in all these analyses, ExpressVPN hasn't let us down once. Although less impressive than NordVPN in terms of numbers, ExpressVPN still boasts a 3,000-server-strong network spread across 94 locations, and add to that over 30,000 IP addresses to hop around without leaving a trace behind.
ExpressVPN's TrustedServer technology ensures that the no-logs policy is followed without any lapses, which means they don't keep any logs of your online activity to be shared with third parties. ExpressVPN also comes enabled with a kill switch should your connection drop, and its MediaStreamer DNS works even with VPN-unfriendly devices such as Apple TV and game consoles. Connect to 5 devices simultaneously, and if ever in need of guidance to find the best server for torrenting, just ping ExpressVPN's 24/7 live chat support and you'd be on your way.
When it boils down to money, this VPN might not at first seem economical, especially with their obnoxious monthly rates. But an annual subscription at $8.32 a month seems justified if you consider the speed and security that you get for it. There's a 30-day money replacement policy, so feel free to give it a go before subscribing with your hard-earned money.
Tips To Torrent Safely With VPN
The fact that BitTorrent accounts for nearly 15% of all Internet traffic should say something about how much torrenting is going on around the world. That said, there are certain things you can keep in mind to ensure your own privacy is secure and that you are getting the downloads you want at good speeds. Here's a roundup of our tips on smoother torrenting:
Choose the right torrent: You can be sure you are walking into a trap if you are going for one of the more popular torrents on a popular public tracker such as ThePirateBay or KickassTorrents. Because those are the ones where the copyright trolls crank up surveillance. Going for a totally unpopular torrent isn't wise either, since you might land up with few seeds and meagre speed.Instead, take time before choosing to read through the comments and form your own idea of the file quality, and to see how it fared on virus scans already run by other users.
Avoid new releases: It's only logical, that copyright holders pump in most of their anti-privacy budget into tracking torrenters intent on jeopardizing their profits by sharing their latest releases. Whether it is a movie, a game or a TV show, you'd be doing yourself as well as the copyright holder a favor by holding back for a few weeks. What's the rush? Spare yourself the unnecessary troll threats and also give the filmmaker or game-maker a chance to even out their costs. After all, we do want files worth sharing, and for that we need artists to break even!
Protect yourself: Getting a VPN would cloak you in anonymity, but there are plenty of content and torrents that come with viruses, malware and spyware. Especially games, that come with cracks, which are known well to be distributors of unwanted, hidden malware. Best would be to run multiple anti-virus programs before opening the file.
Be careful with Popcorn Time: Popcorn Time, the multi-platform movie-streaming app, may appear to be totally harmless and even a great free alternative to Netflix, but its users are as much at risk as torrenters. That is because Popcorn Time streams directly from torrents and seeds without any scruples, which means you are back teetering on the legally blurred line and would be much better off using a VPN.
Check the VPN settings: Lastly, to achieve the maximum possible anonymity while torrenting, make sure you check your VPN's settings to ensure that the encryption, leak protection and kill switch settings are enabled. All set? Happy torrenting!
Read Next: