TLDR; ExpressVPN is a better VPN but NordVPN cheaper making it a more budget option
NordVPN: Get 70%+ Discount
ExpressVPN: Get 3 Months For Free
When we talk about VPNs there are two big names that always pop up. These two are without any doubt two of the best VPNs currently available. Many people might consider them to be expensive but everyone will agree that when it comes to performance you will rarely find any better options. In case it isn't onion we are talking about the arch-rivals NordVPN and express VPN. They have been dominating the VPN market for some time now and have their fair share of user base. But like with every good competition there's always the question of which one's the best. So in today's article we will try and see which one among these two is the ultimate VPN king and deserve your hard-earned money. But before that I would like to discuss a little about what a VPN is and why it is required.
NordVPN vs ExpressVPN
NordVPN vs ExpressVPN Security
Security is the most important aspect of a VPN. So we will find out how secure both these are. One of the key factors that help make a VPN secure is the network protocols they use. So let's see what protocols these two use.
NordVPN's Network Protocols
NordVPN has 3 different protocols that the users can choose from. Here's what their official website says about these protocols :
IKEv2/IPsec: Internet protocol security (IPsec) operates with the newest version of the Internet Key Exchange (IKEv2) to enhance security, stability, and speed. IKEv2/IPsec employs powerful cryptography algorithms and keys, which are unbreakable by supercomputers.
OpenVPN: OpenVPN is an extremely versatile security protocol, which you can use both for UDP and TCP ports – for safe browsing, gaming, and live streaming. To guarantee the protection of your sensitive data, NordVPN uses the AES-256-GCM encryption algorithm with a 4096-bit DH key.
NordLynx: The chink in Wireguard's armor — it can't ensure complete user privacy. That's why we developed a double NAT (Network Address Translation) system on its backbone. It allows a secure VPN connection and does not store any identifiable data on the VPN server. That's the NordLynx technology, available on Linux.
ExpressVPN's Network Protocols
Like NordVPN, ExpressVPN also supports 4 different protocols. Here's what their official website says about these protocols:
UDP – OpenVPN: The best combination of speed a. security, but may not work on all networks.
TCP – OpenVPN: Likely to function on all types of networks, but might be slower than UDP.
L2TP – IPSec: LRTP over IPSec with a pre-shared key.
PPTP: This is the least secure and should only be used if you have a specific reason for it.
Click The Button below and sign up for ExpressVPN for FREE With A 30-day Money Back Guarantee!
Get 30 days Free Trial of ExpressVPN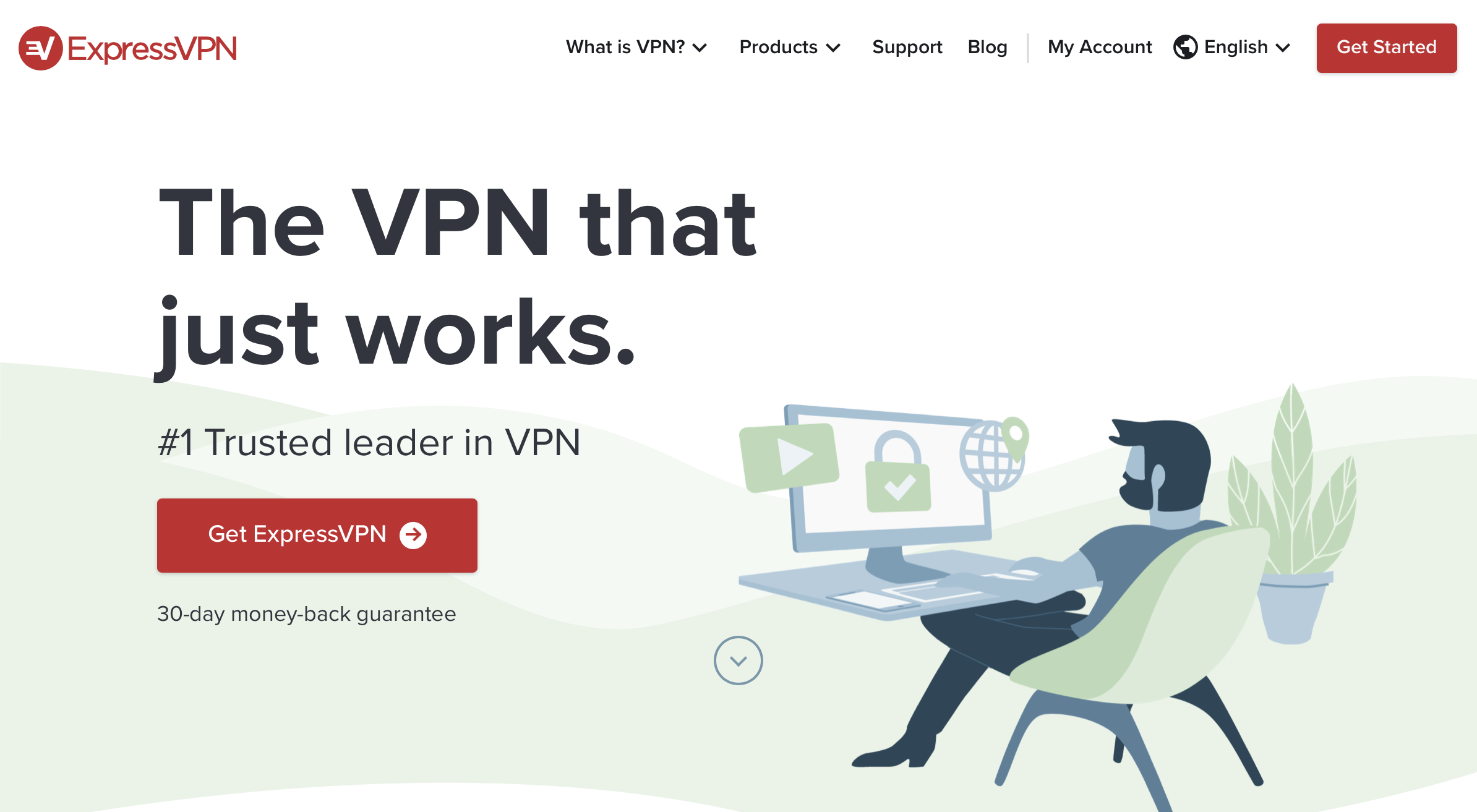 NordVPN vs ExpressVPN Data encryption
When it comes to encryption, both NordVPN and ExpressVPN use Advanced Encryption Standard (AES) encryption in all their connections. According to NordVPN "AES is an encryption standard used and approved worldwide by governments, cybersecurity experts, and cryptography enthusiasts." Further both use AES with 256-bit keys which are absolute overkill. It would take even Supercomputers a billion of years to decrypt.
Both these VPNs have a few other security features as well that make the users' connection even more secure. These are:
NordVPN's Security Features
Kill Switch: If your VPN connection is ever interrupted or if the connection fails, NordVPN will make sure to immediately stop any kind of traffic from either entering or leaving your device. So your personal information including your IP address will not be exposed to your ISP or any other prying eyes.
Private DNS: NordVPN uses its own private Domain Names System(DNS). This means all the DNS queries of the users will go through an encrypted tunnel. These queries are then resolved on the same VPN server the user is connected to. So there will be no activity logs, no connection logs, no DNS blocking and no third parties.
Advanced Encryption Standard (AES): NordVPN uses AES encryption in all their connections. They use 256-bit key encryption along with AES. They also use a 4096-bit RSA key to privately communicate with all your devices.
Double VPN: NordVPN will pass your data through multiple servers. It will encrypt your data at every server. So all your data is protected with an extra layer of encryption which makes it even harder to decrypt.
Strict No log Policy: NordVPN claims that they don't log any of your online activity. They do not store connection timestamps, session information, used bandwidth, traffic data, IP addresses, or other data.
ExpressVPN's Security Features
IP address Masking: ExpressVPN uses an encrypted tunnel to connect your device and the internet. During this it masks your IP address with its IP address. This makes it impossible to trace your internet activity back to you.
Network Lock: Network Lock is to ExpressVPN what Kill Switch is to NordVPN. So whenever your VPN connection is disturbed, Network Lock comes into play. It blocks all internet traffic. This prevents your IP from being exposed.
Zero-knowledge DNS: ExpressVPN has its DNS that it runs on each of its servers. That means that your activities are private. This is because your personally identifiable data is never stored on any server. So there will be no activity logs, no connection logs, no DNS blocking and no third parties.
VPN split tunneling: This is a feature using which ExpressVPN excludes certain traffic from the protection of its VPN encryption. So using Split Tunneling you protect only that traffic that you need to protect.
Best-in-class Protection: ExpressVPN uses AES (Advanced Encryption Standard) with 256-bit keys to encrypt your information. Also known as AES-256, it is used by security experts worldwide to protect classified information. This means that your data is safe with ExpressVPN
Bypass ISP throttling: ExpressVPN also lets you bypass the throttling that your ISPs impose. It lets you use the full bandwidth no matter how many times your ISP throttles your speed.
NordVPN vs ExpressVPN Logging Policy
One of the primary reasons we use a VPN is to hide our activities from the ISPs and prevent them from logging. However if our VPN provider does the same and logs all of our activity then there's no point in using a VPN. It will compromise our privacy. So it is important to understand what the logging policy of each VPN is and whether our data is safe or not. While most VPN straight-up claim that they don't log any data, not many of them follow it. So in this section we will go through the privacy policy of both NordVPN and ExpressVPN. We will see if our data is safe with them or not.
NordVPN's user logging policy
First we need to know where the VPN headquarters are based out of. Because the data laws of that country will decide whether or not the authorities can access the users' data. NordVPN is based in Panama and the country doesn't have any data retention law. This is an ideal location for a VPN.
Now that we have looked where its HQ is located, let us see what it's logging policies are. Here's what we could find in NordVPN's official website:
We keep no logs of your activity online
We do not store connection timestamps, session information, used bandwidth, traffic data, IP addresses, or other data. Nothing to store – nothing to share with anyone.
NordVPN is based away from the EU and US jurisdictions
That's why we don't have the legal obligation to collect your data. If someone asks for it, the best we can do is shrug our shoulders. And we like it that way.
We accept cryptocurrencies
With a crypto wallet and some stealth skills, you can sign up and pay for NordVPN without leaving a trace of who you are. And you still get the 30-day money-back guarantee.
These are the things NordVPN claims they know about you and why they require those:
Email address: It's necessary for creating and managing your user account, resetting the password, and making a VPN connection.
Payment data: Our payment providers process just enough billing information to make the payments – and refunds – happen. If you want to make an untraceable VPN purchase, we also accept cryptocurrencies.
The timestamp of the last session status: For every user, we allow up to 6 VPN connections at the same time. To enforce the limit, our system tracks the username and the timestamp of the last session status while the session is active. It deletes the data automatically within 15 minutes after you disconnect.
NordVPN also went a step ahead and verified their claim. They invited PricewaterhouseCoopers AG, Zurich, Switzerland, one of the Big 4 auditing firms to verify and support their claims. After their industry-first audit, their report concluded that NordVPN's policy description is fair and accurate.
ExpressVPN's user logging policy
Many VPN services claim that they don't log any user details, which is a bit misleading if you ask us. But ExpressVPN, instead of making such claims, mentions what they log and what they don't. Here's what is mentioned on their official website:
ExpressVPN does NOT and WILL NEVER log:
IP addresses (source or VPN)
Browsing history
Traffic destination or metadata
DNS queries
It, however, will collect these data for troubleshooting purposes:
Apps and app versions successfully activated
Dates (not times) when connected to the VPN service
Choice of VPN server location
Total amount (in MB) of data transferred per day
Click The Button below and sign up for ExpressVPN for FREE With A 30-day Money Back Guarantee!
Get 30 days Free Trial of ExpressVPN
NordVPN vs ExpressVPN Availability of Servers
NordVPN has a total of 5679 servers spread across 59 countries whereas ExpressVPN has 3,000+ VPN servers in 160 VPN server locations in 94 countries. While ExpressVPN leads in the number of countries that it has servers in, NordVPN has a larger number of servers.
NordVPN vs ExpressVPN Geo Unblocking
This is one area where both the VPN had a very identical performance. They successfully managed to unblock multiple regions in Netflix, Amazon Prime Video and Hulu. In addition to these there were many other sites they were compatible with.
NordVPN vs ExpressVPN Simultaneous connections
NordVPN supports at most 6 simultaneous connections at a time. This is above the industry average, which is five. ExpressVPN on the other hand follows the industry average and supports 5 devices simultaneously.
NordVPN vs ExpressVPN Customer Services
The success of most products somewhat depends on its customer care service. More friendly and knowledgeable customer support would mean that more and more people would opt for the product. It would also ensure customer retention. So it should not be a surprise that both these VPN providers have incredible customer support. They have a 24/7 live chat support along with a very functional ticket system. They also have email support if their chat support isn't available. NordVPN has a Youtube channel that provides video walkthroughs of their features. Similarly ExpressVPN has an active blog for the same.
NordVPN vs ExpressVPN Pricing
It is universally known that the pricing of a product plays a huge role in the number of sales that the product gets. So no matter how secure and feature-rich a VPN is, if it isn't priced right, it is bound to fail. Let's see how these two do in this aspect.
NordVPN has a few quite affordable plans. They have 4 different plans:
Monthly: This is the shortest and the most expensive of all its plans. It costs $ 11.95 for one month.
1 Year plan: The subscription for this plan is priced at $ 83.88. This comes with a 41 % discount which saves a total of $ 59.52. The per month cost for this plan is $ 6.99.
2 Year Plan: The subscription for this plan is priced at $ 119.76. This comes with a 58 % discount which takes the savings to a total of $ 167.04. The per month cost for this plan is $ 4.99.
3 Year Plan: This is the best plan that NordVPN has to offer. The subscription for this plan is priced at $ 125.64. This plan comes with a 70 % discount which takes the savings to a total of $ 304.56.
ExpressVPN's subscription plans and pricing:
Monthly: This is priced at $12.95 and is the most expensive among all its plans
6-month plan: This plan costs $59.95 and is billed once per 6 months. The per month cost for this plan is $9.99
15-month plan: This is their most popular plan. It costs $99.5 and is billed once in 15 months. The per month cost for this plan is $6.67.
Click The Button below and sign up for ExpressVPN for FREE With A 30-day Money Back Guarantee!
Get 30 days Free Trial of ExpressVPN
Verdict
After all this comparison there's still very little that tells them apart. Both of these VPNs are very impressive. No matter which one you choose, be assured that you will be totally satisfied with its performance. But for the sake of this article, we have to choose a Winner. So what do each VPN have in their favor?
In NordVPN's favor:
Pricing
Total number of Servers
Extra protocol in NordLynx
In ExpressVPN's favor:
Security
Streaming on Netflix and other services
Number of server location
Speed (During our Tests)
Split Tunneling
Tie:
Extra Features
Payments and Refunds
Logging Policy
Customer Support
Reliability
As you can see there was very little to separate them. They tied in most aspects. But if I were to choose a winner, I would choose ExpressVPN because of its faster Speed, Extra Security, more number of server locations and a better Netflix streaming experience because of more no of libraries. So the best and ultimate VPN is ExpressVPN
Click The Button below and sign up for ExpressVPN for FREE With A 30-day Money Back Guarantee!
Get 30 days Free Trial of ExpressVPN
What is a VPN?
This is one of the most asked questions by a surprisingly large number of users. Most of them have heard the term VPN for the first time and have no idea what it is or why it is used. To their credit, the definition of a VPN in Wikipedia isn't really beginner-friendly. This is what is written about a VPN on Wikipedia:
A virtual private network (VPN) extends a private networkacross a public network and enables users to send and receive data across shared or public networks as if their computing devices were directly connected to the private network. Applications running on an end system (PC, smartphone etc.) across a VPN may, therefore, benefit from the functionality, security, and management of the private network. Encryption is a common, though not an inherent, part of a VPN connection.[1]
This definition is kind of overwhelming for most beginners. So a more simple explanation for it will be this. A Virtual Private Network (VPN) is a service that gives you online privacy and anonymity. It creates a private network from the user's internet connection. A VPN routes the users' connection through a remote server. This way it masks the Internet Protocol (IP) address of the user making them virtually untraceable. Most important, a VPN service establishes secure and encrypted connections. This provides far greater privacy and protection than a regular connection.
What is the need for a VPN?
Now that you know what a VPN is you will be itching to know what is the need for it and what are some of its use cases. You would also want to know whether VPN is a must and you won't be able to access the internet without it. The answer is that it isn't required to be connected to a VPN while accessing the internet. It's just that using a VPN makes your connection secure and anonymous. Let us now see some common uses of a VPN.
Hide your streaming activity: Kodi on its own doesn't violate any of the copyright infringements. This however doesn't mean that none of the addons will violate the copyright infringements. There's always a chance that one or the other addons might get you into trouble because of their content. So you as a user, need to make sure your identity is protected in case that happens. This is where a VPN can help you.
Hide Your Browsing Activity: Whenever you browse the internet, your Internet Service Provider can see what websites you are visiting and what files you are downloading. Not only this, but even other prying eyes will also be able to track your activity. This data can be sold to third parties who might use it for malicious activities. So if you want to hide your browsing activity from your ISPs and other third parties then you can connect to a VPN. Using a VPN your connection becomes secure and anonymous. On the local network only a single connection will be visible. All the other traffic that needs to be transferred will pass through the VPN connection. This way your Internet Service Provider (ISP) or Governmental agency won't be able to track you. They will not be able to link your session with your IP address. However one thing you should keep in mind is that VPN providers may still track and log your activity.
Bypass ISP throttling: Most Internet Service Providers (ISP) intentionally slow down the speed of a user's broadband internet connection. This is usually done by the ISPs to regulate a network's traffic and to alleviate network congestion. While this is a common practice the result of this throttling is that users get a lower speed than they were supposed to. This throttling can be bypassed by using a VPN. A VPN routes your connection through their secure tunnel, preventing your ISP from throttling your connection.
Unblock Geo-Restricted Content: Imagine these scenarios. You are someone who is traveling to a different country and want to access your native Netflix or Prime Video library. Or you are someone who wants to access the catalog of a different country because a particular title isn't available in your region. Normally you would be out of luck in both these scenarios but using a VPN can easily solve these problems for you. A VPN will mask your location based on the server you are connected to. This enables you to access these region-restricted services from anywhere in the world.
Bypass Internet Censorship: Many countries are known for notoriously censoring a majority of the online content as well as restricting access to many websites. China is one such country that comes to mind. In such cases you can use a VPN to gain access to these restricted contents. However one thing to note is that most VPN isn't capable of bypassing this.
Downloading Torrents: Downloading torrents might land you in trouble in multiple countries. Even if it isn't illegal, downloading a torrent can be painstaking because most ISPs throttle the speed. Some ISPs might even serve you notices for downloading torrents. Universities and other Institutes also block torrents. Using a VPN you can bypass these restrictions and also ensure that you don't land in trouble.
What makes a VPN good
Like in most things, there are a few desired attributes that most VPNs should have. Here we will look at a few of these attributes. In fact these attributes will lay the ground-based on which we will separate both NordVPN and ExpressVpn.
Security: This is the topmost priority for most VPN users. The level of security a VPN can provide decides how effective a VPN is. A good VPN is can be characterized by the following features:
Level of encryption: A good VPN will use military-grade encryption like Advanced Encryption Standard (AES-256). This is the most common type of encryption used by VPNs and is very effective in protecting your information.
DNS leak protection: A good VPN should provide you protection from DNS leaks.
Kill Switch: Another feature that most good VPNs should have. It prevents your traffic from leaving in case your connection is interrupted.
These and many other features like this will decide how good a VPN is in protecting our privacy.
Speed: What is the benefit of having a private and secure connection if there is no high-speed bandwidth to accompany it? This is the case with most free and low tier VPNs. Their speed is so slow that all you could do is barely browse a few sites or so. If you are someone whose primary reason for using a VPN is to stream and download content then this will affect you.
To be able to stream contents without any buffering, then as per Lifewire your internet speed needs to meet these requirements:
0.5 Mb/s to view standard definition movies on a laptop computer. While you can stream at speeds of 0.5 Mb/s, the quality is grainy on a large screen, much like watching an old VHS movie. Netflix recommends at least 1.5 Mb/s.
3 Mb/s to view standard definition video (480p) on a TV.
4 Mb/s to view high definition video ( 720p, 1080p ).
5 Mb/s or more for the best 1080p experience.
15 Mb/s to stream 4K (but 25 Mb/s is preferred). Also recommended is a 4K Ultra TV with an HEVC decoder.
So for a VPN to be considered a good VPN, it has to at least meet these above requirements.
No-Logs Policies: Another primary reason people use VPNs is to hide their online activities and prevent ISPs from monitoring and tracking their online activities. The thing is even though the ISP and other third parties won't be able to track users, the VPN provider will still possess this particular information. There is no guarantee what they will do with that data and nothing is stopping them from selling these data to third party buyers. Also if the VPN provider is based in one of the member countries of the 14 eyes, then there is a chance government surveillance officials might ask for these data in the guise of national security.
This is especially relevant if your VPN provider is based in a 5/9/14-Eyes Alliance country. VPNs in these countries can be legally obligated to provide your data.
For this reason a good VPN should not store any of your information at whatsoever. So a VPN is as good as its logging policy. Most good VPNs have a strict no-logs policy.
Number of Servers: The number of servers a VPN has is also a great indicator of how good a VPN is. Having a large number of servers available has its advantages. Here are two such reasons why large no servers can be beneficial
First, more no of servers means that you can switch between servers in case one of the servers isn't working. So you can find a server that best suits your requirements.
Secondly, a huge no of servers would mean that there will be less congestion in a particular server. As a result you will get better speeds.
So any good VPN should have a large number of servers spread across the globe.
Location of Servers: Having a server in multiple regions and locations would mean that we can access unblocked content in all these regions. So along with having a large number of servers, a good VPN should also have these servers spread across more countries and regions.
Pricing: Pricing is the final deciding factor for most people. After all the VPN that you decide to go for will largely depend on your budget. So it doesn't matter how many features a VPN has if the pricing isn't right a VPN won't sell. So for a VPN to be considered good, it has to have the perfect performance to price ratio.
NordVPN vs ExpressVPN Verdict
If you are short in cash then you can opt NordVPN otherwise ExpressVPN would be the ideal choice for you.
NordVPN: Get 70%+ Discount
ExpressVPN: Get 3 Months For Free
Read Next: