When it comes to fitness and activity trackers, I think it's the cost of one's own motivation that is the core issue here. We run, walk, exercise and burn calories, but, on a daily basis, what does that amount to besides a wild heartbeat? A fitness tracker does the job by converting all that panting hard work to some solid-looking numbers. And metrics, I tell you, can be motivating.
It's good to have that kind of motivation handy. But is it really a luxury or a necessity? Because some of the so-called better trackers such as Fitbit cost a bomb. It would be fine if you were actually an athlete waking at 3 am to start conquering the world, but what if you are (like me, say) a regular health-conscious person looking to stay in shape?
The latest Fitbit models in the market can set you back by more than $200. That sounds like an awful lot; it puts the pressure on me to run like a dog during every free minute!
I say take a step back before you buy. Read on for our list of some humbler, some more stylish, some genuinely affordable and all very useful Fitbit alternatives to consider this year.
Why opt for a Fitbit Alternative?
True, you could also just go for one of the cheaper Fitbit models. But even if you put aside the princely sum that you might be willing to shell out, there is one big consideration: what do you need the activity tracker for? Chances are, if you actually sit down and do an honest inventory of your fitness activities, you might realize that you don't need as many features as the dollars draining away on them.
Moreover, there's the matter of being a bit alternative yourself. Isn't everyone just going the Fitbit way? I like to be able to pull off something less obvious, something more Me. And if it doesn't leave me a pauper in the process, all the better!
Best Fitbit Alternatives
1. Garmin Vivosport – Best Fitbit Alternative 2022
I like Garmin's own track record. There's something very confidence-inspiring in the fact that this company has been making GPS technology not only for our modest wristwear, but also for mounted panels in ships and aircraft, not to forget sonar fishfinders and dog training collars (yeah, maybe you should consider buying a matching one for your pup too!).
This experience shows in the tiny-tiny Garmin Vivosport. It's amongst the smallest activity trackers in the market but packing in loads of pretty much every fitness-centric feature you can think of. And keeping true to its legacy, it also has the surprise bonuses of a direct weather display, and the capacity to help you find your smartphone (provided it's paired on Bluetooth).
What makes it the perfect choice?
Besides the usual daily step/calorie/route/distance count, Garmin Vivosport also has a heart rate monitor, exercise tracking, movement identification and a 'fitness age' calculator. Itrelays notifications from your phone, and allows you to track your swimming achievements being waterproof. What makes it unique though, is that you can calibrate it (with a brisk walk) for better accuracy.
Who is this for?
For those of you looking for something lightweight and minimalist in design – wearable in the long run – which offers all the features of a robust fitness tracker, this is a great buy that's more reliable than the cheaper models and yet doesn't empty the wallet.
Pros
Lots of features for a small gadget
Accuracy calibration
Great GPS
2. Samsung Gear Fit2 Pro – Best Samsung Fitbit Alternative
A bit on the expensive side, but then what you get from Samsung Gear Fit2 Pro in return is super-easy interface, loads of fitness tracking features and over 3,000 apps for you to just wear it and slide right back into life as you are used to. This one's a great alternative to Fitbit Charge 2.
What makes it the perfect choice?
You can do a lot with Samsung Gear Fit2 Pro. Track your pulse rate, the usual fitness metrics with detailed info on your daily goals, distance, speed and calorie burn, but also you can listen to music while you do all that.
Although it is water-resistant up to 50 meters, what makes the Gear Fit2 Pro special is Speed On – an app specifically for swimming. It will do all your fitness tracking during a swim session like a regular tracker, but with Speed On it will also make sure you are reminded of and are avidly following your training plan as well as will capture your stroke pace and count.
Who is this for?
Swimmers, for sure. With the integrated app within you could even invite some swimming buddies to join in for a group challenge on a lazy afternoon. And those of you who are looking for something halfway between a full-fledged tracker and smart watch, the Samsung Gear Fit2 Pro still makes for a neat choice.
Pros
Beautiful display
Special swimming integration
3. Apple Watch Series 5 – Best Fitbit Alternative For iOS Users
The Apple Watch needs no introduction. We all know it's steep (most expensive on our list too!), we know it's the most stylish thing since Coco Chanel, we all know it's prime purpose isn't even fitness tracking (it's a smart watch capable of a lot more), and yet there's no removing Apple from anywhere. Let's just say it's the kind of thing you might want for reasons besides just the sweat-producing pushups you attempt.
What makes it the perfect choice?
It's a smart watch, yes, but with the integrated Apple Health App it does end up providing all kinds of tracking of your fitness statistics. What makes the Apple Watch Series 5 fun is all the other fitness-related things you can do with it, such as downloading fitness-specific apps better customized to your personal preferences, and the impressive visual report it presents of your daily progress. Best of all: it's faster with a dual-core processor.
Who is this for?
Someone rich! Kidding. But seriously, for someone who wants the most from a single gadget on their wrist and who cares to make a statement even on their daily run. Oh yes, and for general Apple-holics; the looks don't disappoint.
Pros
Fast
Stylish
Packed with features
4. Wahoo TICKR FIT Heart Rate Monitor Armband​
If it's a proper armband you wanted all this while (and not necessarily a suave smart watch), then you should probably take a closer look at Wahoo TICKR Fit Heart Rate Monitor Armband. It is third-party compatible and can just as easily be connected with your Apple Watch while it goes about gathering and sorting your workout data while tied snugly on your upper or forearm.
What makes it the perfect choice?
Several reasons, though affordability and value for money are high on that list. What makes Wahoo a cool buy is the fact that it really focuses on the nitty-gritties of fitness junkies as opposed to just the looks of a gadget. The sealed body doesn't let sweat in (the topmost reason for chest straps to conk off), the battery lasts much longer than other trackers in the same price range, and the TICKR FIT has fast become a common favorite for its real-time heart rate monitoring.
Wahoo TICKR FIT is compact and comfy, and comes equipped with Bluetooth and ANT+ technology that let you pair it with other apps, smartphones and GPS bike computers.
Who is this for?
Cyclists would love it, so would just about anyone who cares about comfort while working out. If your focus is on heart rate, this this Wahoo buy is unlikely to disappoint.
Pros
Compact
Adjustable bands
Rechargeable battery
5. Garmin Vivofit 4
Another Garmin product on the menu, but this one's a tried and tested (and very much affordable!) little tracker – an obvious Fitbit alternative in the lower price range. It'll keep you going for a year, will automatically start activity timer for you, and has more features packed in than any of the previous Vivofit models (including a color display, however small!).
What makes it the perfect choice?
MoveIQ is one useful Garmin feature that I don't regret having spent on just a few months ago. It automatically detects, classifies and tracks activity, so that you don't again have to go through the torture of having forgotten to turn the activity timer on or off (the last thing anyone wants after all those laps).
Perhaps the only minus point is that it syncs automatically but 'periodically', so for any instant syncing you gotta fish your phone out and do it manually.
Who is this for?
If a budget-friendly, sturdy tracker is what you wish to invest in, then Garmin Vivofit 4 is fab for all it offers. Ideal for those looking for long-haul, 24/7 tracking without the weekly bother of charging batteries; just strap it on and forget about it for a year.
Pros
Packed with features
Replaceable battery
6. Withings Steel HR Hybrid Smartwatch
Withings is essentially Nokia Health, and does what it used to – monitoring your heart rate, sleep tracking, maximizing workouts and showing your progress map through in-built GPS.What's more, Withings Steel HR Hybrid Smartwatch does all this while still looking like a hybrid between my dad's and my era's watches. All metal, showing smartphone notifications and letting you enable Alexa Skill to ask for your progress.
What makes it the perfect choice?
A lovely little screen is a good starting point, but that's not enough. It's got the usual automatic run, walk, swim and sleep modes, each with its own features. You monitor your heart rate, get fitness scores and even follow the elevation and pace of your jogs. What makes it perfect though is the long battery life.
Calculating sleep score isn't a rare feature to come by, but Withings HR Hybrid also comes with Smart wake-up alarm that synchronizes with your sleep cycle and accordingly wakes you at the optimal point.
Who is this for?
Those who crave for a traditional look, minimalistic app interface and special attention to sleep would like this smart watch, but if it's just a simple fitness tracker you want then this might become a case of overspending.
Pros
Long battery life
Smart Alarm
Cons
Steeply priced
Single repeatable alarm
7. Moov Now 3D Fitness Tracker
A bit of an unusual contender – in that it doesn't perform the usual task of tracking steps – but Moov Now 3D Fitness Tracker does better. It tracks activity and speaks to you while you strive to better your performance.
What makes it the perfect choice?
Think of it as a wearable 'fitness coach'. Yep, your personal coach for running, cycling, cardio boxing and body weight workouts. It does real-time audio coaching. Not spooky or preachy at all; I've borrowed a friend's Moov Now 3D Fitness Tracker and been pleasantly surprised to hear a mechanical voice urging me on instead of human voice scolding me for slackening.
We're talking amazingly accurate real-time tracking and 6 months of battery life in a lightweight, breathable band that can be strapped on to wrist and ankle alike.
Who is this for?
Those looking for some guidance while they dive into a no-nonsense mode about their fitness regime would find the Moov Now 3D Fitness Tracker extremely useful for the modest sum it costs. Swimmers, in particular, vouch for it.
Pros
Advanced swim tracking
Sleek design
The Verdict: Best Fitbit Alternative
Fitbit aside, the market's now flooded with wearable tech. But provided you know what exactly you wish to use it for this should be an easy-peasy decision. The 7 options above are a good place to start the hunt. You can go cheaper still by spending on, say, a Xiaomi Mi Band 4. That's just $34 for decent fitness tracking. But otherwise, the 'perfect' choice depends on your budget and gadget requirements. My only advice – keep it practical!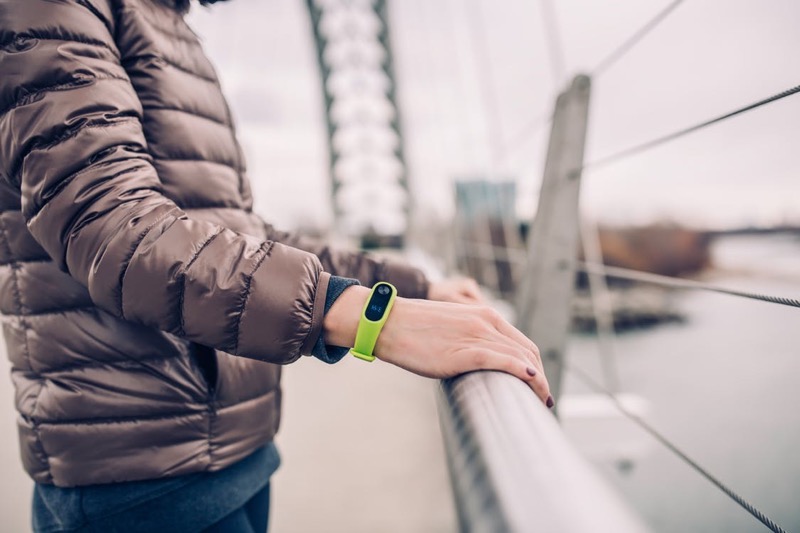 Read Next:
Best Apple Watch Screen Protectors
Best fitness tracker for women
Last update on 2022-11-26 / Affiliate links / Images from Amazon Product Advertising API