Here're the Best smartwatches for men that's been dived into the following article. Hopefully you can find a smartwatch that suits your needs!
Apple Watch Series 5 – Best Apple Smartwatch For Men
Samsung Galaxy Watch Active2 – Best Android Smartwatch for Men
Mobvoi TicWatch Pro 4G – Best Tough Smartwatch For Men with 4G
Withings Steel HR – Best Hybrid Smartwatch For Men
Mobvoi TicWatch E2 – Best Budget Men's Smartwatch
Fossil Gen 5 Carlyle – Best Wear OS Smartwatch for Men
Garmin Fenix 5X Sapphire – Best Sports Smartwatch For Men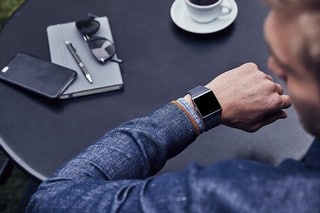 Wearable tech is coming of age in 2022. Smartwatches are making their presence felt and carving out a niche for themselves. No more they are mere fancy add ons for your smartphone. Although they have not reached the level of replacing your smartphones, the latest smartwatches come loaded with features and unique offerings. This makes them an indispensable part of your tech ecosystem. In this article, we will see which are the best smartwatch for men.
With watches being one of the few options available for them to accessorize, men have always bought a watch after due diligence. Now with the rise of the smartwatch, it has only become more daunting to find the perfect timepiece for you. The smartwatch should not only make the best of your wardrobe, but it must also seamlessly become an integral part of your tech ecosystem. It should not also be relegated to a tech fossil within months of your purchase.
The choice overload has mad many prospective buyers nonplussed. Consumer electronics companies like Samsung, Apple, LG, and others are launching new models frequently. Health and fitness companies have also introduced their own products. Not to mention watch companies and fashion brands Armani, Montblanc, Breitling, Tag Heuer, etc too have thrown their hats in the ring. With this article, we will help you simplify your choices and find the best smartwatch for men.
Best Smartwatch for Men
1. Apple Watch Series 5 – Best Apple Smartwatch For Men
Who is it for?
Apple fans. If you are using an iPhone and looking for a smartwatch, you don't even need to read the rest of the review. It is just that good.
Why do we recommend it?
The fact that Apple makes some of the best consumer electronics is no secret. So it is no surprise that Apple watch would be a part of the list titled the best smartwatch for men. Now what it is that makes it the best. For starters, it looks good, after all, it is an Apple product. Available in the case sizes of 40 mm and 44 mm. Its ergonomic case fits on your wrist, and you don't feel the weight at all. The basic model comes in aluminum case with a matte finish. Titanium and ceramic variants are available if you are willing to pay more. It runs on the Watch OS from Apple, which is the most flawless among all OS for the smartwatch. This comes with an always-on retina display, which means your watch face will be visible all the time. The watch has an OLED display, with sapphire glass and ceramic back, encased by a digital crown. Watch Series 5 continues the tradition of the square dial. It is very customizable with a variety of watch faces available for download in the app store.
Apple Watch Series 5 gives you the option 4G/LTE to make calls from the smartwatch itself. But that will set you back by about $100 extra. So I recommend that you by that variant only if you need the watch to make calls. The battery will last you about a full day in a single charge. It comes with a power saver mode for when your battery is about to run out of juice. Series 5 comes with a newer set of chips which makes it more efficient than the previous generation.
For fitness sensors, there is a GPS and a heart rate monitor which gives you an ECG feature. It also comes with a compass. You can use it for all fitness plans cycling, hiking, swimming – it can withstand water levels up to 50 meters. The Activity Ring tracks your progress and inspires you to sit less, move more, and exercise every day. Noise App will warn you if the decibels around you can damage your hearing. The 32 GB onboard storage will not leave you wanting. Series 5 supports WiFi, Bluetooth, NFC for connectivity and you can use it to make payments through Apple Pay.
Pros
Best LTE Connection
Best App Support
Stylish
2. Samsung Galaxy Watch Active2 – Best Android Smartwatch For Men
Who is it for?
Android smartphone users looking for the best smartwatch for men.
Why do we recommend it?
If you own an Android phone, not necessarily from Samsung, this is the best smartwatch you can buy. For android phones other than Samsung you just need to download the Samsung Gear app. You can pair it with iOS too if you want. However, you will not be able to use all of its features on the iPhone. It runs on Samsung's Tizen OS, which is better than Google's Wear OS. Active 2 comes in 44 mm case size, and 40 mm for those with slimmer wrists. It features a super AMOLED screen in 1.4 inches and 1.2 inches. Sporting a classic minimalist look with round dial and a virtual digital bezel. The bezel can be used to switch between apps. Active2 is available in Bluetooth and LTE variants. The LTE version will allow you to make calls directly from the phone and comes with increased RAM. But it will cost you more. It works on Exynos 9110 chipset, so you don't need to worry about lags. In a single charge, it will last you about a day. If you use Samsung Galaxy phones you can also wirelessly transfer power to your smartwatch.
You can have fun with the My Style feature. You can use your phone to take a selfie and the watch will generate a watch face that will match your looks. Both of its variants come with 4 GB of internal memory. Active2 can be used to stream Spotify or YouTube, and you can also use it for Google Translate. It can connect with a Bluetooth headset, So you can listen to music without your phone. You can also use it for payment if you use Samsung Pay.
In the fitness section the Active2 capable of activity tracking and workout recognition. It comes equipped with GPS and heart rate sensor. There is also built-in fall detection. Samsung has also announced an ECG feature but is not available yet and is pending FDA approval. The sleep tracker offers you insights to get better sleep. You can also monitor your stress levels. The running coach is improved and offers useful real-time advice. It has an IP 68 rating making it dustproof and water-resistant up to 1.5 meters.
Pros
Strong Performance
Good Price
User friendly
Long Battery Life
Cons
Bad App support Compared to Apple
3. Mobvoi TicWatch Pro 4G – Best Tough Smartwatch For Men With 4G
Who is it for?
Tough men looking for a smartwatch to flex their masculinity.
Why do we recommend it?
Mobvoi is a voice-enabled AI company, which has made splashes in the smartwatch arena with its TicWatch series. TicWatch Pro 4G runs on Google's Wear OS. The most striking feature of this smartwatch is that it is certified by US military standard 810G. That makes it capable of facing some extreme environments.  It has high and low temperature resistance, it is anti-shock, dust-proof, humidity-proof, sand-proof. It can be used for pool swimming, and also features a water-resistant speaker. TicWatch Pro 4G comes with a Gorilla 3 glass screen and glass fiber and polyamide watch case. It is enclosed by knurled stainless-steel bezel and has an aluminum back cover. This model sports a lightweight Silicone strap.
It features LTE, so you can use it to make phone calls and send texts as well. It has 1 GB RAM which makes its operation smooth. You can easily use it to stream music. It supports NFC, so you can make payments through Google Pay. It can work in two modes – Smart Mode and Essential Mode. The essential mode can last you days without needing to charge.
It comes with Ticmotion,  which detects running, fast walking and swimming, tracks and records your fitness records. With its TicSleep app, you can also track your sleeping patterns. There is also TicPulse designed to keep you informed about your heart health with high precision. You can see 7-day heart rate history and abnormal heart rate warning notifications.
4. Withings Steel HR – Best Hybrid Smartwatch For Men
Who is it for?
The men who want their smartwatch to look like a watch.
Why do we recommend it?
If you like traditional watches but want to see what is special about smartwatches, you can try a Hybrid watch. The Steel HR from Withings (formerly Nokia Health) is a good option. It maintains the looks and feels of a traditional watch but will also connect with your smartphone for notifications and fitness tracking. This comes in 40 mm stainless steel casing with a matte finish. The watch sports the timeless analog watch face with a single button on the side. The battery is long-lasting and will last up to 25 days on one charge. It is water-resistant up to 50 meters so no need to fear when you shower, go snorkeling, or get caught in the rain.
You can see all the call, text, event and app notifications from your smartphone right on the watch screen. You can also ask Alexa about your activity stats if you enable the Alexa Skill. The watch can measure your heart rate, count your steps and calories burned. The activity tracking is automatic and it recognizes more than 30 activities in workout mode. It uses GPS from your phone and can provide you with a map of your session with elevation, distance, and pace. Steel HR will also track your sleep for you and give you a Sleep Score. It records light & deep sleep cycles, depth & regularity, and interruptions.
5. Mobvoi TicWatch E2 – Best Budget Men's Smartwatch
Who is it for?
Those who want a smartwatch with the latest features at a budget.
Why do we recommend it?
TicWatch E2 is a value for money smartwatch from AI company Mobvoi. This watch has a round dial in a 46.6 mm glassy finish case. It features a bright and vivid 1.39 inch AMOLED screen. Its design seems to be influenced by form follows function principle. How you can customize your display from many watch faces available for download on Google Play. This smartwatch can work with both Android and iOS mobile phones. TicWatch E2 runs on Google's Wear OS. It still uses Snapdragon 2100, which may result in a frustrating lag during the use. Its battery is still okay and will last a full day on one charge.
TicWatch E2 offers a built-in GPS and a heart rate monitor (HRM). So you will get independent navigation while running and cycling. You can also accurately track your performance with stats like steps, speed, distance, calories burned and much more. This smartwatch also comes equipped with a pre-loaded swim monitoring mode. When you get in the water it will automatically detect and turn on. It can be used for swim style detection, lap count, stroke count, duration, and pace. It is waterproof up to 5 ATM pressure or 50 meters.
6. Fossil Gen 5 Carlyle – Best Wear OS Smartwatch For Men
Who is it for?
Anyone who desires a classic watch and will not stand any compromise with the performance.
Why do we recommend it?
Carlyle is the masculine variant of the fifth-gen smartwatches from the watch manufacturer Fossil. It is a slick-looking stylish timepiece filled with latest technology. Fossil Gen 5 is based on Snapdragon 3100 which makes it run fast and smooth. It also boasts of 1 GB RAM, so there is virtually no lag in its operation. This smartwatch works on Google's Wear OS. Although Wear is not as good as Watch or Tizen from Apple and Samsung, it has made remarkable improvements. It will work with both iOS and Android. However, with iOS, you can only use limited features. This smartwatch comes in a 44 mm case size with a 1.28 inch AMOLED display, with a pixel density of 328 PPI. The display remains vivid and bright even in direct sunlight. On the side, there are three buttons. The crown also works as scroll wheel. Two smaller buttons can be customized to trigger functions of your preference. The band has options of stainless steel, dark silicone, and brown leather.
The watch comes with its own GPS, so you won't need your phone on your jogs. A list of its sensors include a heart rate monitor, NFC, gyroscope, and altimeter. Bluetooth and WiFi connectivity are supported. It has a swim-friendly design and can withstand pressures up to 3 ATM. Because of Fossil's association with Google, you can use Google Fit and Google Assistant on the watch seamlessly. Google Fit helps you design a training regimen. You can also use it for payments via Google Pay. It has 8 GB of internal storage. Fossil Gen 5 will work for about a day on a single charge.
7. Garmin Fenix 5X Sapphire – Best Sports Smartwatch For Men
Who is it for?
For the adrenalin junkies.
Why do we recommend it?
Fenix 5X Sapphire is the ultimate multisport smartwatch. It features a rugged design to survive the rough and tumble of outdoors. It comes in a reinforced housing for extra durability and features a protective PVD-coated stainless steel bezel and buttons. Salient screws and buttons and the sleek black look enhance the masculinity of this watch. Another feature is the scratch-resistant sapphire lens. The display is bright and high-resolution quality. The LED backlighting assures great readability in all conditions. Fenix 5X Sapphire is waterproof up to 100 meters.
For activity sensors, it goes the whole nine yards. GPS, optical heart rate monitor (OHRM), gyroscope, barometric altimeter, 3-axis compass are just the main ones. Positioning is fast and accurate. It also boasts of full-color TOPO U.S. mapping so hiking in mountains or trekking in woods you will never lose the sense of direction. This watch also comes with routable cycling maps. Since Garmin has designed this watch for the athletic-minded, it naturally can recognize and assist most fitness activities. You will also get access to built-in activity profiles, performance metrics, and training status readings that show the fitness-enhancing effects of your workout.
Read Next:
Which Apple Watch Should I Buy Reddit
Best Waterproof Smartwatch 2022
Last update on 2022-11-27 / Affiliate links / Images from Amazon Product Advertising API