According to a recent World Health Organisation report, the number of obese people is increasing at an alarming rate. This gets even more worrying when it comes to children who are also getting more and more obese. Childhood obesity is a serious problem that can be seen in many of the developed countries putting kids at risk for poor health. The reason behind this has been shown by numerous studies that have been published.
One of the major causes is the declining amount of physical activity in children. The total duration of physical activities is declining by three to four minutes every year, especially for children who are in the age group of four or five years. Children who have obesity are more likely to grow up obese as well. This is a bit scary because for such obese adult there is an increased risk of many serious health conditions that includes heart disease, diabetes, cancer, etc. One way to tackle this is to increase the physical activities of these kids. This is where these trackers come into play.
How to increase the physical activities of kids?
Kids Love Challenges. We can often convince them to do something that is important by making it a challenge and adding some fun aspects to it as well. What this does is that it no longer remains a task for them but a fun and exciting activity, completing which they will get a reward. This gives them regular motivation to complete these tasks without us having to nag again and again. Fitness trackers do the same for kids. They add many exciting aspects to an otherwise dull and regular activity which makes it compelling to complete.
These trackers in doing so ensure that the kids do exercise on a daily basis and thus help them reach their full physical development potential. These trackers turn to be active in a fun game for kids. Using these trackers you can also measure the sleep, heart rate, blood pressure, and many other activities. These devices are very portable and can accurately record or capture all of the child's activities and prepare an easy to understand report every day. The tracker can also be accessed from our smartphones using the tracker application. So what are the advantages of having a fitness tracker for your kids? Let's see that.
Advantages of a Fitness Tracker for Kids, Tweens & Teenagers
1. Daily Activity Reports
In addition to counting the total number of steps walked in a day, most fitness trackers also track and record the sleep duration as well as the quality of sleep. They also create a curve of active and seating time. These features are very useful for a parent not only to learn about their kid's daily activities but also their sleep patterns as well. This helps them in better understanding and planning the kids' daily activities without having to worry about their Kids not doing any physical activity.
2. Fitness Habits
For most kids, completing these fitness tasks might start as a fun activity and the only reason they were doing it was the rewards that the tracker awarded them. There's also a leaderboard that keeps them competitive. But as time goes by, the kids start enjoying these exercises more and more. It inspires them to opt for activities that require more physical activities. It might also set off a new hobby that involves more physical activity or they may even try out a new sport. SO in the long run, using a fitness tracker will be more physically active without even trying.
3. Motivation
Keeping a Kid motivated for anything is a really daunting task for most parents and only a few succeed in doing so continuously for a longer period. A fitness tracker takes a very interesting approach to this. They have a reward system that keeps the kid interested in these activities. The leaderboard system and rewards ensure that they look forward to completing the tasks. While the intention might be ideal, but the kids do stay motivated and this is what matters the most.
4. Increased Activity
Well, kids are competitive by nature. So it shouldn't be a surprise that they will spend a longer amount of time completing these activities in the fitness trackers. They try to get the rewards that are offered by the trackers. So the result of all this is that kids spend an increased period of time completing the tasks and hence the number of their physical activities are also increased.
Best Fitness Tracker for Kids, Tweens & Teenagers
1. Garmin Vívofit Jr 2
Overview
The Garmin Vivofit Jr. 2 is Garmin's second-generation fitness tracker for kids and is one of the most popular fitness trackers. The Vivofit Jr. 2 can count the total steps taken. It can also monitor sleep as well as the total moving time. Both the watch face and the wristband of the trackers are themed uniquely. The themes include Marvel, Star Wars, and Disney themes. Kids can play an adventure game that is themed according to the Marvel, Star Wars, or Disney theme. To keep the kid interested in using the tracker, Garmin Vivofit Jr. rewards the kids with virtual coins for completing tasks.
These coins are redeemed for other rewards. It also lets them unlock new Badges and watch faces if they keep achieving their daily activity goals. This makes sure the kid isn't bored at all. In terms of the build quality, the vivofit jr. 2 has a durable band made from rubber and is also waterproof. It has also got fantastic battery life. The battery included in it is a standard coin cell battery that will last about a year before having to replace it.
Specs
Strap material: Silicone
Physical size: Adjustable bands fit 130-175 mm (ages 4+)
Color display: Yes
Display size: 0.43″ x 0.43″ (11 x 11 mm)
Display resolution: 88 x 88 pixels
Display type: sunlight-visible, transflective 8-color memory-in-pixel (MIP)
Weight: 17.5 g
Water rating: 5 ATM
Clock Features: Time/date, Automatic daylight saving time, Alarm clock, Timer and Stopwatch
Sensors: Accelerometer
Activity Tracking Features: Step counter, Move bar and Sleep monitoring
Highlights
Friendly Step Challenges: The Vívofit Jr 2 includes many friendly challenges. These friendly challenges ensure that the kids remain competitive while doing physical activities. It has a Toe-to-Toe step challenge that lets kids sync with their friends and challenges then for a timed step competition. Parents can also challenge their kids for a Toe-to-Toe challenge. All they need to do is download the Toe-to-Toe app from the Connect IQ Store on a compatible device and then challenge their kids to a step competition.
MONITOR ACTIVITY: Using the vívofit jr. 2 apps, parents can monitor and track the kids' activities, responsibilities, sleep, chore data, and more. They can do all this after syncing the fitness tracker with one of the compatible devices.
Rewards, Reminders, and Responsibilities: Vívofit Jr 2 fitness tracker allows the parents to use the smartphone app and assign chores to their kids. They can also schedule activity alerts right from the smartphone app itself. These alerts then pop up in the Kids' bands and remind them of their new jobs to do. Parents can also set these chores and alerts to recur weekly or even daily. This ensures that they are regularly reminded of the tasks they need to complete.
KID MODE: The vívofit jr 2also has a Kid Mode that can be enabled or disabled using the smartphone app. Enabling the Kid Mode will give the Kids only limited access to the smartphone app. This enables Kids to use the app on their own. They can use the app to monitor their own progress. You can also set up whether or not they can check their chores without approval as well as redeem the rewards.
TAP CHALLENGE GAME: The Vívofit Jr 2 fitness tracker also comes with a step challenge with limited chances. So, in order to get more chances they need to remain active and complete 60 minutes of daily activities. This not only unlocks adventures but also chances. So the more active minutes kids log, the more chances they'll get to play the tap challenge game. The total amount of playtime can also help unlock thrilling adventures, games, and icons, etc.
COLLECTIBLE GEMS: Another way the Vívofit Jr 2 fitness tracker keeps the child interested is through gems. The app rewards the kid with colorful gems once they meet their daily activity goals. They just have to tap on the map to scoop up the gems and collect as many as they can. These gems can be redeemed for other rewards. They can use these collected gems to reveal new portions of the map.
The Parent Helper: With the help of the mobile app, the Vívofit Jr 2 lets parents manage all the key functions of the tracker. Using the app parents can add individual profiles for each child to manage their steps, sleep, daily active minutes, and chore data. Moreover, all the relevant information automatically syncs to the mobile device periodically when in range. So you can use the app to check out everyone's progress. You can also use it to schedule the chores and send alerts for the same.
The Task Manager: The smartphone app also functions like a task manager for the parent. It allows the parent to assign chores right from the app. They can either choose the chores from a preloaded list or create their own chores. They can also decide the worth of each task and the number of virtual coins to be rewarded on completing the chores. Parents can also use the app to set schedule alerts to remind the kids of their chores. They can set the alerts or chores to recur daily or even weekly. Kids can also track the number of completed as well as incomplete tasks for the particular day.
Pros
It includes a sleep tracker.
Parents can set up chores and reminder alerts
The application has a few advanced features
Impressive build quality and design.
A comfortable wristband that comes in multiple themes
Interactive App and games geared towards kids
Can redeem in-game coins for real rewards
Cons
The display size is small
There is no heart rate monitor.
The display is a little dim
2. Fitbit Ace 2
Specs
Battery type: Lithium-polymer
Display: Touchscreen; grayscale OLED
Sensors & Components: 3-axis accelerometer; Vibration motor
Charge time (0-100%): Two hours
Radio transceiver: Bluetooth 4.0
Water Resistance: Yes
Overview
The Fitbit Ace 2 is the successor of Fitbit's first fitness tracker for kids, the Fitbit Ace. This newer model has most of the specs that were found on the Fitbit Ace. This includes step count, active minutes, hourly movement, and sleep tracking. However it has a very improved design element. Compared to the Ace, the Ace 2 is much more durable, is easier to use, and has a more versatile design and better build quality. The ACe 2 also has a better screen and improved water resistance to go along with its eye-catching design. The best thing about this newer model is that you get all these improvements at a very affordable rate. In fact, Ace 2 is slightly cheaper than the original Fitbit Ace fitness tracker.
Highlight
TIMER & STOPWATCH: The Fitbit Ace 2 comes with both a timer & stopwatch features. This lets you set a time for different activities as well as schedule tasks with alerts. Using these features you can have better control of how the tracker is used by your kid.
SLEEP TRACKING: The Ace 2 features a sleep tracking mechanism that tracks and records the sleeping time and sleep pattern of the kids. It prepares a report with these data and lets you know whether or not your kids are getting the rest they need. This will help in making them adopt a good sleeping habit which will play a big role in their health and even their well-being.
ACTIVITY TRACKING: The Fitbit Ace 2 also tracks all-day steps and active minutes. It lets you track every move, skip and jump of your kid and see how that leads a more active and healthy lifestyle.
PARENT VIEW: With its Parent View mode in the Fitbit APP, the Fitbit Ace 2 lets you, the parent, to set up a family account and create child accounts accordingly. In this Parent View, you can see the different activities of your kids and even approve their connections.
ON-SCREEN DASHBOARD: Keeping track of all the multiple metrics that the Fitbit Ace 2 provides can be a bit of a hassle. So to make it easier and more intuitive, the Ace 2 app has An on-screen dashboard that contains all the important data and logs regarding the Kids activities. This gives you a better understanding of everything that is done and needs to be done. This eventually helps you in building an active and healthy lifestyle for your kids.
KID VIEW: Other than the Parent View, there's also a Kid View mode in the Fitbit APP on the Ace 2. Enabling the Kid View, you can allow your kids to see a few limited data like their stats, badges, and clock face options. This means that they can use the app safely without requiring the supervision of an adult. Thus using the Kid View, kids will be able to keep track of their stats and badges. They can also change the clock faces and their avatars and even connect with their friends on their own. Finally, while in the kids' view, you can set reminders for them to move & stretch their legs if they remain idle for a slightly longer period of time.
WATERPROOF: It will also be good to know that the Fitbit Ace 2 is waterproof and hence also swim-proof. This means that your kids can wear it in the shower or even in the pool without you having to worry about it getting damaged. This is also helpful if you want to track the kids' swimming activities.
FUN INCENTIVES: To keep the kids constantly motivated, the Ace 2 has virtual badges and avatars and also a reward system. They get these rewards when they complete a task. This also ensures the Kids remain competitive and the physical activities don't become boring for them.
Pros
Kid-friendly design.
Straps are Interchangeable.
Very accurate tracking.
Waterproof
Catchy Design
Affordable
Good battery life
Cons
Slightly long Set Up process
No heart rate monitor.
Using Animated watch faces decreases battery life
3. LeapFrog LeapBand
No products found.
No products found.
No products found.
Specs
Product Dimensions: 2 x 2.5 x 1.8 inches
Item Weight: 7 ounces
Watch Type: Analog/Digital Watch
Hi-Res Screen
Band: Adjustable
Connectivity: USB Connectivity
Sensors: Accelerometer
Battery: Rechargeable Battery
Water Resistant: Yes
Overview
The leapfrog Leap-band fitness tracker is a tracker that has been explicitly designed for kids. The Leap-band is a virtual pet gaming device that has been merged with a fitness tracker to intrigue the kids. In addition to all the basic tracker functionalities, it also has 50 Fun Active Challenges and 8 Customizable Pets to keep the kid interested. In terms of specs it has a high-resolution screen, an adjustable Band, a rechargeable battery, and is also water-resistant.
Highlights
Parental Controls: Like most fitness trackers for kids, the LeaFrog Leap-band also has a Parental Control mode in the app. This mode gives the parent even more control of the tracker. Parents can look at different data regarding the kids' activity. They can also schedule tasks and send alerts to the kids' tracker to remind them of the same. This can be done recursively every week or even every day.
Kid challenges: The LeaFrog Leap-band comes preloaded with 14 challenges that the kids can play and complete. Completing these challenges ensures that the kids remain invested in the tracker and also do some physical activities while having fun and being imaginative. Further using the LeapFrog Connect, parents can set up to 36 LeapBand challenges to keep the kid even more active.
LeapBand games: In addition to the challenges, the LeapBand also has different games that the kids can play. This includes games such as Pet Boogie and Fun Run. To keep the kids interested, there is a points reward system that gives them points based on their activeness. Hence, kids do more physical activities as a result.
Pet nurturing: The LeapBand lets the kid pick 1 of the 8 available pets. The pets include a unicorn, robot, dragon, and more. They can also choose their pet's name and color. It also allows them to feed, groom, and care for their pet. In exchange for this they earn rewards which they can use to unlock more surprises and pet play. It also lets them unlock nutrition fun facts by collecting food to make healthy snacks for their pets.
Pros
Waterproof
Interactive games
Large High-Resolution Display
Provides Nutrition facts to Kids
Cons
Slightly bulky for long time usage
Not suitable for older children
4. YoYoFit Slim Kids Fitness Tracker
Specs
Product Dimensions: 3.9 x 3.9 x 1.4 inches
Watch Type: Analog/Digital Watch
Band: Adjustable
Connectivity: USB Connectivity
Sensors: Accelerometer, Blood Pressure Sensor
Battery: Rechargeable Battery
Sports Mode: Running, Walking, Cycling, and Climbing.
Water Resistant: Yes
Overview
The YoYoFit Slim Kids Fitness Tracker is another fitness tracker that is geared towards kids, as the name suggests. The tracker includes a screen that displays date and time. It also measures heart rate, blood pressure, and the total steps count. It can give text and call alerts as well as the activity remainders. The tracker comes with four sports modes that include running, walking, cycling, and climbing. Further, it can track steps, calories burned, distance walked as well as the sleep timing. The tracker has a compatible app for both android and iOS. Using the app you can track all these stats and control the tracker. It uses a USB to charge. The YoYoFit Slim Kids Fitness tracker has a very ergonomic design and is lightweight as well.
Highlights
IP67 Waterproof: YoYoFit Slim has designed its fitness band according to waterproof and dustproof standards. It comes with an IP67 waterproof rating. As a result, it can be worn in the shower or even in the pool without worrying about damaging it. This can also be helpful in tracking the kids' swimming activities. You can also be relieved of the fact that you won't be damaging the app if you get caught in the rain.
All-day Activity Tracking: The YoYoFit Slim Kids Fitness Tracker has four different sports modes that includes activities like walking, running, cycling, and climbing. Using its powerful sensors, it can track all-day activities very accurately. These activities include steps, distance, calories burned, and the heart rate. It can also track and analyze the sleeping pattern.
Multifunction Smart Watch: This fitness tracker also acts as a multifunction smartwatch. It displays the date and time in both 12 hours or 24-hour format. Additionally, it can track the heart rate, Blood pressure, calories burnt, has a pedometer, alarm clock, Multi-Sports mode. To add to all this, it also has a Stopwatch, Calls, or Message reminder so that you don't miss anything important. It also acts as a remote camera shutter button for your smartphone.
Easy Charging & Wear Comfortable: The YoYoFit Slim Kids Fitness Tracker has an ergonomic design and is very lightweight and durable. This makes it very comfortable to wear, even for longer periods. For charging purposes, it comes with a built-in USB plug that does not require a charging cable. Insert the built-in USB plug into a USB charger and you are all set to go.
Stylish Screen Design: When it comes to its design the YoYoFit Slim kids' fitness tracker includes 2 Different Color Screens. It has multiple screen brightness levels that can be adjusted. This gives a clear view during the day and a dazzle-free view at night. It also has multiple themes that can be changed by pressing the screen.
Pros
It can Measure the O2 level
IP67 Waterproof
Can measure Blood pressure and heart rate
Easy to charge
Great battery life
Cons
Slightly bigger band
Difficult to put on by kids themselves.
5. VTech KidiZoom Smartwatch DX2
Specs
Product Dimensions: 0.6 x 8.8 x 1.8 inches
Item Weight: 0.32 ounces
Sensors: Pedometer
Display: Touchscreen Display
Connectivity: Micro USB
Battery: Rechargeable Battery
Overview
The VTech KidiZoom Smartwatch DX2 is more of a smartwatch than it is a fitness tracker. however that shouldn't stop you from using it as a fitness tracker. This is because it comes with a pedometer and a motion sensor which gives it the basic capabilities of a fitness tracker. However, its biggest advantages are that it has integrated games and voice recording capabilities. The DX2 also has dual cameras that let kids capture action videos and selfies. It contains a total of 55 digital and analog watch faces that one can choose to change the look of the watch. It also features a timer, alarm, and calendar. Specs-wise it has a Touch Screen display with built-in batteries, dual cameras, and 256 MB memory. It uses a Micro-USB Cable for Charging
Highlights
Two Cameras: Unlike the other entries in this list, the DX2 features a dual-camera setup. One of the cameras is on the side whereas the other one is on the front. With a single click, kids can take videos, pictures, and selfies on the DX2. It also lets them add fun photo effects, stamps, frames, and filters. They can also make a few custom watch faces on the watch.
Motion Apps and Games: The DX2 comes with a few apps and games that can take advantage of the motion. Kids can complete different activity challenges or play a few motion-controlled games. There are also games that make use of the camera and augmented reality technology. This lets them interact with the real world. The watch also has some cool sound effects that get triggered on moving around. There are also puzzles as well as many other games that can be downloaded from the Learning Lodge app store.
Photo and Video Effects: Other than letting you click pictures using the DX2, you can also edit those photos and videos. By editing we mean that you can add funny photo effects, stamps, frames, and filters, etc. This lets you take full advantage of its dual cameras.
Pros
Fun as well as Educational apps and tools
Come with a Pedometer for tracking fitness activity.
Dual Cameras
Intuitive Interface
Cons
No GPS
Not waterproof
Limited Functionalities compared to Fitness Trackers
6. T-CORE Fitness Tracker Smart Watch
No products found.
No products found.
No products found.
Built like a smartwatch, the big screen makes T CORE fitness alluring to view as one can easily capture all the information at a single glance. With the options made available on the screen, you can simply change the screen through a simple touch on the icon. Power endurance is longer, thanks to the powerful battery of 220mA being installed that can carry a charge up to a week. Notifications are now easily trackable. Any SMS and SNS (Facebook, Twitter, Instagram, LinkedIn) notifications that come into your phone are displayed on your watch screen.
To gauge your health parameters, the watch can gauge your heartbeat, track your sleep, place reminders to walk and also track your steps. Active tracking by the watch helps you achieve your daily goals. Being light and having a soft skin rubber, the watch comfortably rests on the wrist of the kid without realizing that there is something on their wrist. The color TFT screen is attractively designed and is an eye-catcher. Being an IP 68 certified device, it is immune to water. Kids can now play in the water or possibly swim with it without worrying about the band strapped on their hand. Finally, it is a one-time charge where the 220mA battery is charged once, and the watch delivers power for close to a week.
Pros
Large screen with better viewability of applications.
Installed with a 220mA battery that can last for seven days in a single charge
Inclusive of a magnetic charging capability
IP68 protected, hence waterproof
Presents all the vital features that are essential to monitoring all your activities
Lightweight and durable
Cons
Design is boxy.
Does not come with interchangeable straps
Best Fitness Tracker for Kids, Tweens & Teenagers Buyer's Guide
Like most gadgets, when it comes to choosing a fitness tracker for your kids, there are tons of options available. This makes it very hard and confusing to choose on tracker out of an ocean of trackers. The best way to tackle is this is to look at a few of the criteria that can help you select a good tracker. Once you know the criteria, you can see how each tracker performs in these criteria, and differentiate the better ones from the mediocre trackers. This reduces the number of options and helps you make a better decision. So this is exactly what we will be doing in this article. To begin with, let's take a look at the criteria.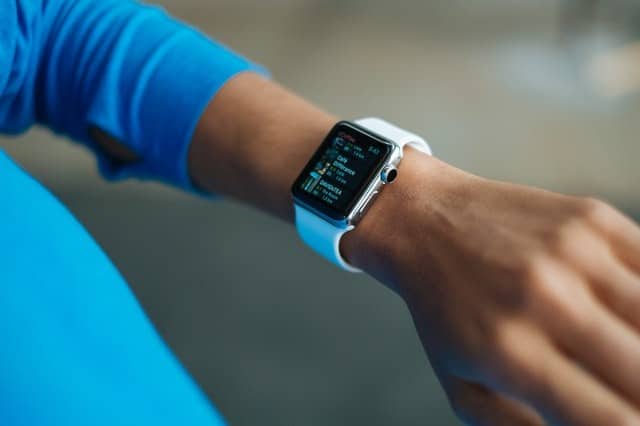 Compatibility
Most fitness trackers are great on their own. But to unlock their true potential, they require you to sync them up with your Smartphone and use the native apps to monitor and control the app. So you need to check and see whether or not the tracker you are going to go for is compatible with your smartphone. The good thing is most fitness trackers are compatible with most of the smartphone. There are a few exceptions like the Apple Watch which is compatible with the only and iOS device. However, all the fitness trackers that we will be discussing in this article will be compatible with most smartphones.
Display
Other than the sensors, the display of a fitness tracker is one of its most important aspects. After all this is where you will be viewing all the details. While a few fitness trackers display all the activity details, words, other numbers, and the user profile icon icons on a screen that resembles a dial. Others use a simple LED light or even an application to display and share this information. So the kind of display a tracker uses while being an important factor on whether or not the tracker worth buying.
Battery Life
What would be the benefits of having all these sensors and activities, if the tracker can't even last that long? So it is important to also consider the battery life of a fitness tracker. The battery life depends on a few variables, like the trackers that have a touch screen or even a colored touch screen will have lower battery life and will require to be charged more often. Similarly, a tracker with more number of sensors will also need to be charged more often. Generally, the battery life of most common fitness trackers varies from one day or a week to even months. So keep the battery life in mind while buying a fitness tracker for your kid.
Water Resistance
We all know how bad kids are when it comes to handling and taking care of things. This becomes more important for the fitness tracker. More often than not, the kids are sure to expose their trackers to some water. While we can't prevent that from happening, we can make sure that the device is as water-resistant as possible. So you should choose a device that is Water Resistant at the minimum. This will allow the kids to wear trackers even when in the shower. This can also come handy if you want to be able to keep track of their swimming activities.
Features
Most fitness trackers have a few basic functions that they serve. These functions include tracking the total number of steps the user walks and the number of calories they burn while doing so. But when it comes to fitness trackers for kids, these aren't enough. To make sure that the kid remains interested in wearing the tracker and completing the activities, there needs to be something fun for the kids. So a tracker that has a few fun and interactive games, as well as a reward system to keep them invested, is a more preferred one. While choosing a fitness tracker for kids, make sure it has a few extra features as well as games to keep the mind interested.
Pricing
This is another important thing to consider while choosing a good fitness tracker. Normally, one would have a good performance to price ratio. Fitness trackers that are geared especially towards kids have a starting price tag of $10 and above.
The cost of the device depends on the number of available sensors as well as the extra features of has. So for a fitness tracker to be considered one of the best trackers, it should have a perfect balance of all these aspects and also have a reasonable price range at the same time.
Found The Best Fitness Tracker For Your Kids?
So these were our picks for the best fitness trackers for Kids. All of these serve the purpose of both tracking your kids' activities as well as providing them with fun and entertainment. Do let us know which one of them you liked the most and did we miss any of your favorite trackers
Read Next:
Last update on 2022-11-27 / Affiliate links / Images from Amazon Product Advertising API