It doesn't matter if you are a regular VPN user, or you are using a VPN for the time or even if you plan to use a VPN in the future, one question is bound to have occurred to you. And that question is whether the VPN is legal or not and whether using it would land it in trouble or not? In this article, we will try to tackle this question but will focus on ExpressVPN instead of VPNs in general. However, ExpressVPN is also a VPN, and like any other VPNs will have the same legal boundaries or restrictions. The short answer will be, unless you are in a few restricted locations, using ExpressVPN isn't illegal and won't land you in any kind of trouble. But that doesn't mean you can use it in any way you like. You may still be in trouble with the authorities if you do illegal stuff using a VPN, say for instance downloading and sharing copyrighted contents in places where it's forbidden. To give a more detailed answer to this, we will have to take a look at how one would use a VPN. So, let's do that first.
Click The Button below and sign up for ExpressVPN for FREE With A 30-day Money Back Guarantee!
Get 30 days Free Trial of ExpressVPN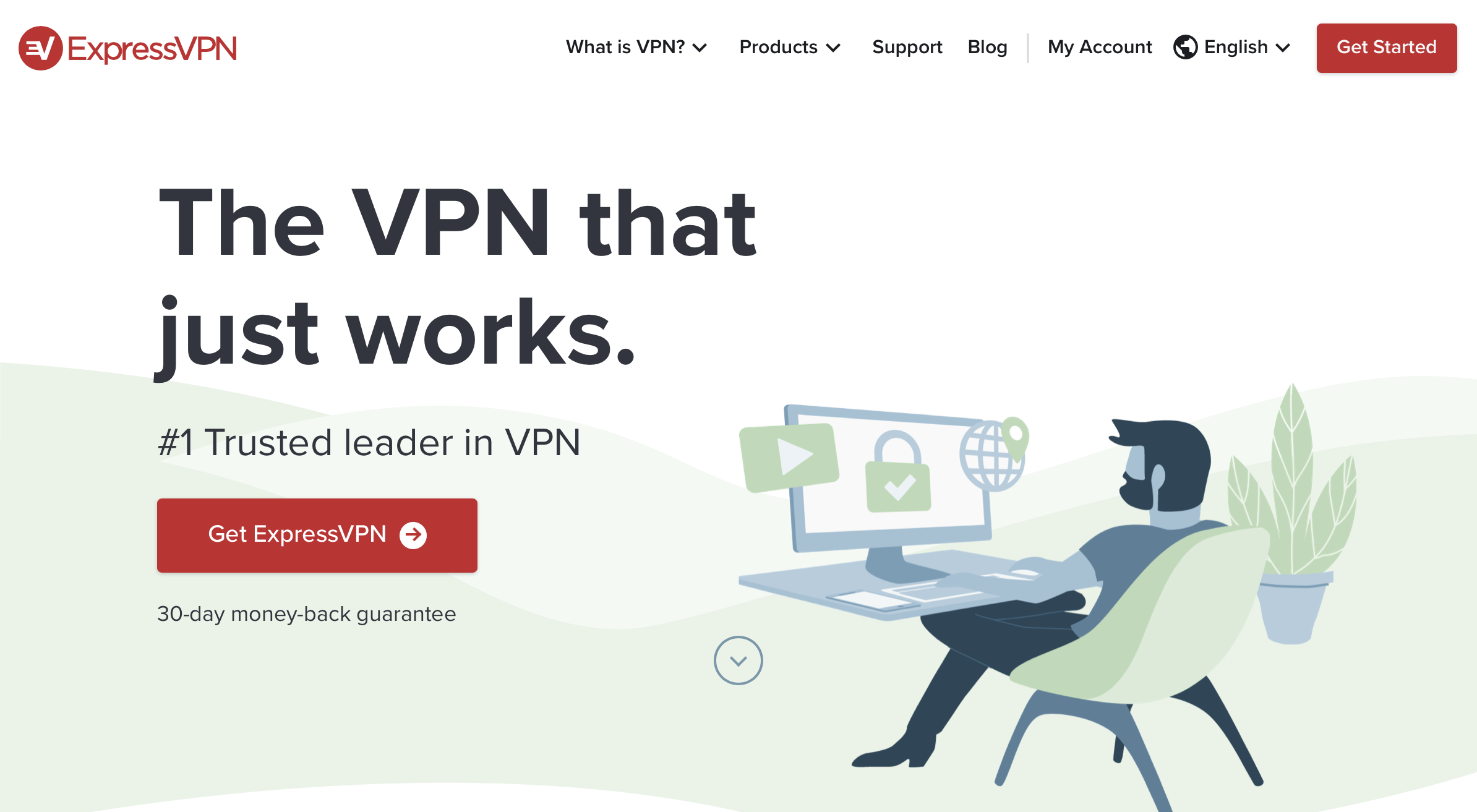 How and Why would You use a VPN?
In order to understand whether or not ExpressVPN or any VPN for that matter is legal or not, we will have to know a little about the ways the VPN may be used. This will on most occasions decide whether or not anyone using the VPN will be in any legal troubles. So, let's take a look at that.
1. For Privacy Concerns
The majority of those people who use a VPN, use it for their privacy concerns. They want to have an anonymous browsing experience. What this means is that by using a VPN the user wants to hide their online identity by making their original identity with an anonymous one. VPNs make this possible by masking the users' IP addresses with their own IP address. In this way the user will remain anonymous throughout their session and sensitive data like their IP address, location, etc won't be exposed online. This will maintain their privacy.
2. Hide Private Information
The Internet Service Provider has access and can easily find out the websites that the users are visiting and the files they are downloading when they browse the internet. In addition to the ISPs, other prying third parties can also easily track the users' activities with ease. And if you are wondering what they would get from this, well your data will be sold to the highest bidders who might use it for activities that might compromise the users. However, connecting a VPN can help the users hide their browsing activity from your ISPs and other third parties and prevent this as the connection becomes more secure and anonymous. Only a single connection will be visible on the local network and all the other traffic that has to be transferred will be routed through the VPN tunnel. So, neither the Internet Service Provider (ISP) or other third parties will be able to track the user and their activities. They also won't be able to link the current session with the users' IP address as the IP would have been masked. But VPN providers can still track and log these activities, so you should keep in mind that.
3. Bypass ISP throttling
Most Internet Service Providers (ISP) are known to notoriously slow down the speed of a user's broadband internet connection intentionally and hence not giving them the best experience. The ISPs usually do this in order to regulate the network's traffic and alleviate the network congestion which is somewhat of a common practice. But this will also result in the speed throttling which means that the users will get a lower speed than they were supposed to which isn't acceptable but there is nothing that can be done. Well, they can do something and that is using a VPN which can help in bypassing this speed throttling. Since a VPN will be routing the users' connection through the secure tunnels on their servers, they prevent the ISPs from throttling the connection because the ISP won't be able to identify the network.
4. Unblock Geo-Restricted Content
Ever since there has been an increase in the number of streaming services available, the number of shows available to watch in easy services has been decreasing. Users have to subscribe to different services to be able to watch all shows. Another case is where a show is available in only a few of the regions and won't be available in any of the scenarios. This will result in many shows not being available for streaming in particular regions but will be available in some other regions. To tackle this, people have now started using VPNs to unblock these Geo-restrictions to get access to shows and movies that are not available in their region. A VPN will be masking the users' location based on the server they are connected to and enable them to access the region-restricted services from anywhere. Hence, using a VPN we can access geo-restricted contents.
5. Bypass Internet Censorship
In some countries there are countrywide restrictions and a majority of the online content is censored and restricted access online. The biggest example of this would be China, where not only there is restriction on almost everything but even VPNs are also blocked. In such cases using a VPN can give users access to these restricted contents. But not many VPNs can bypass this restriction.
6. Downloading Torrents
Another use of a VPN is to download torrents as that may land their users in trouble in multiple countries if a VPN is not used. Downloading torrents aren't illegal but it can still be painstaking and hard as most the ISPs throttle the speeds might also serve the users' notices for downloading torrents. Even the Universities and other Institutes also have firewalls installed to block downloading of torrents. A VPN can help the user to bypass these restrictions so that they can easily download torrents without any issues. But in some cases, downloading something illegal may still land you in trouble even if you use a VPN because of their logging policies.
Click The Button below and sign up for ExpressVPN for FREE With A 30-day Money Back Guarantee!
Get 30 days Free Trial of ExpressVPN
Now that we have seen the ways and reasons one would use a, let's find out if ExpressVPN is legal.
Is ExpressVPN Legal?
To give a short answer, ExpressVPN isn't illegal on its own. So, then why would this question arise? Well, even if ExpressVPN is completely legal, there are a few factors that decide whether or not it is legal for you. These factors would be the location you are in or the way you use the VPN and the tasks you do use it. The logging policy also plays a factor here. Let's understand them all now, one by one.
1. Your Location
The first factor that will decide how using a VPN will affect you is nothing but the country you are located in. Other than a few countries, a VPN is allowed in most countries. However, if you are in one of the few countries where a VPN is restricted, then it may be illegal to use a VPN. This has nothing to do with ExpressVPN but is more because of the laws of that particular country. Even using a VPN in some countries might land you in big trouble.
The biggest example of this would be of China, where legal actions might be taken if some locals are found using a VPN. The actions can range from being fined or even being jailed. There have also been reports where the authorities went as far as blocking cellular access of those found using a VPN. Few other countries that have banned VPNs are Iraq, Iran, Belarus, Turkey, etc. So, if you are from any of these countries where the government has banned the use of VPNs, then using ExpressVPN is also illegal for you. But thankfully, the number of such countries is very less currently and chances are more than your country might not be one of these. So, the conclusion is that if you are not from any of these countries where using a VPN is restricted, then ExpressVPN is com[letely legal for you. However, how you use the VPN can still land you in trouble, which is also the next factor that decides whether ExpressVPN is legal or not.
Click The Button below and sign up for ExpressVPN for FREE With A 30-day Money Back Guarantee!
Get 30 days Free Trial of ExpressVPN
2. The way you use a VPN
As we have seen that even though using ExpressVPN is completely legal for you, it might become illegal depending on how you use the VPN. So it may still end up landing you in trouble. In other words, using a VPN to do illegal activities may still be troubling for you. Regarding what is considered as illegal activities will again depend on the country you are from and may range from a lot of activities to a few specific activities. For instance, this classification might be very strict in some places, while in others they might not classify any such activities or very few of those. For example, in some places downloading torrents, especially copyrighted ones, is illegal.
So downloading a torrent even while using ExpressVPN might still land you in some trouble and may be deemed as illegal. Even then, your protection is up to some extent dependent on how much ExpressVPN has protected your data and your identity. It also depends somewhat on the data that ExpressVPN is logging. This is actually very significant and plays a big role. Let's see how. The way in which a VPN functions and operates requires it to log a few information related to the user without which it would find it hard to operate. This is understandable. but a few VPNs go overboard with these. They record a lot of sensitive data which might end up compromising the users' privacy.
However any good or reputable VPN will keep a record of only those information that is really required and nothing else. The provider won't be logging any kind of sensitive data that may have the potential to compromise the user and their privacy. The best thing about this is that even when the authorities may request the providers to comply with their rules by citing some national security reasons to give them access to the users' data, the provider won't have anything to share with the authorities as there won't be any compromising and sensitive data stored to share. As far as ExpressVPN is concerned, it also has a similar logging policy. Let's take a peek into what's written on their website regarding this.
"What ExpressVPN collects and why:
As outlined in our Privacy Policy, ExpressVPN collects minimal information about your usage of our services:
●_Apps and app versions successfully activated_
●_Dates (not times) when connected to the VPN service_
●_Choice of VPN server location_
●_Total amount (in MB) of data transferred per day_
None of the above data enables ExpressVPN or anyone else to match an individual to specific network activity or behavior. We are unable to answer questions related to data that we do not possess, such as how a customer has used our VPN service.
Why does ExpressVPN need to collect any information at all?
●_To troubleshoot technical issues related to ExpressVPN apps_
●_To provide technical support to customers, identify connection problems, and give country-specific advice on how to use our service_
●_To enable ExpressVPN engineers to identify and fix network issues_
ExpressVPN also collects anonymized analytics data such as speed test data, connection failures, and crash reports. These diagnostic reports do NOT tie back to individual users because we've engineered our apps to never know which user sends which data. You can specify in the settings menu of any ExpressVPN App whether you wish to send this data to us.
What ExpressVPN does not and will never collect:
ExpressVPN stores no activity logs, no connection logs from our users. Here's what that means:
●_No activity logs.ExpressVPN does not see or record which websites you visit. We never log the destination or contents of your traffic, and we run our own_ private, zero-knowledge DNS on every VPN server for added privacy and anonymity.
●_No connection logs.ExpressVPN never logs connection timestamps, session duration, your source IP address, or the ExpressVPN IP address that your computer assumes when connected to the VPN._
ExpressVPN does NOT and WILL NEVER log:
●_IP addresses (source or VPN)_
●_Browsing history_
●_Traffic destination or metadata_
●_DNS queries_
We have carefully engineered our apps and VPN servers to categorically eliminate sensitive information. As a result, ExpressVPN can never be compelled to provide customer data that does not exist. "
It's clear from this that ExpressVPN won't be storing any sensitive users' data. So, even if it is asked to share some data, it won't be able to because there won't be anything to be shared. So this makes it clear that ExpressVPN will keep the user and their private data completely safe.
Click The Button below and sign up for ExpressVPN for FREE With A 30-day Money Back Guarantee!
Get 30 days Free Trial of ExpressVPN
Is ExpressVPN Legal: Verdict
ExpressVPN is completely legal to install and given that you don't use it for any unethical purpose, it is also completely legal to use. That said, there are still a few exceptions to this, i.e the country you are located in and if a VPN is banned there in which case it would be illegal for you. Other than that, you shouldn't have any worries regarding using ExpressVPN.
Now, I know what you may be thinking. Just because a VPN is legal to use doesn't mean it is a good VPN. Well it's natural to think of this, and the answer is that other than being completely legal to use, ExpressVPN is also one of the great VPNs. As far as the reasons why it is a great VPN, these are a few of the top features that make it such a good VPN.
Click The Button below and sign up for ExpressVPN for FREE With A 30-day Money Back Guarantee!
Get 30 days Free Trial of ExpressVPN
Top Features of ExpressVPN
VPN protocols: ExpressVPN supports 4 different protocols that you can choose from. Here's a little explanation about what these protocols are taken from the ExpressVPN website:
UDP – OpenVPN: The best combination of speed a. security, but may not work on all networks.
TCP – OpenVPN: Likely to function on all types of networks, but might be slower than UDP.
L2TP – IPSec: LRTP over IPSec with a pre-shared key.
PPTP: This is the least secure and should only be used if you have a specific reason for it.
IP address masking: ExpressVPN does IP address masking by establishing a connection between the device and the internet using an encrypted tunnel and also masking the users' IP addresses in the process. They mask and replace the users' IP with their IP addresses, hence making the user anonymous. This other than providing additional security for the user also ensures that one will be able to trace back the users' internet activity back to them, giving them complete freedom.
Network Lock: ExpressVPN also comes with the Network Lock function which is similar to the Kill Switch feature of NordVPN and protects the users' privacy and security in case of a disturbance or interruption in the VPN by disconnecting them from the internet, shutting it down and taking them offline. Network Lock prevents any internet traffic from entering or leaving the device in case of a VPN connection disturbance or loss which makes sure that the users' IP address isn't exposed. Hence, the users' privacy and security remain protected and they aren't compromised in any manner.
Split tunneling: You may have run into scenarios where not all applications or websites require a VPN. But they instead require you to turn off your VPN and you won't be able to access them. So what happens if you have to access both at the same time. You can't turn off the VPN as this would expose the other apps and definitely can't access the website without turning off the VPN. To solve this, ExpressVPN has the split tunneling feature, which creates separate tunnels on the same network. There will be two different tunnels, one with the protection of the VPN that will make it secure and include all of the other features of the VPN. The other tunnel will be a regular connection and have no VPN protection. One part of the traffic will be sent through the encrypted VPN tunnel while the other will be routed through the other tunnel and hence allowing you to exclude certain traffic from the protection of a VPN. In this scenario, all connected devices or applications except for those specifically excluded will be protected by the VPN.
Zero-knowledge DNS: On all of the ExpressVPN servers, there is a private DNS setup that ensures that the users' activities remain private and their data isn't leaked by other DNS. As we have seen, no personally identifiable data is stored on their servers to ensure that there won't be any activity logs or connection logs of the user. It also prevents DNS blocking while keeping third parties away from the network.
Best-in-class Protection: To encrypt the users' information and their data, ExpressVPN uses AES (Advanced Encryption Standard) along with 256-bit keys which make it hard to crack. AES-256 is virtually unhackable and will take billions of years to be cracked which ensures that the users' data will remain protected at all costs.
Bypass ISP throttling: Using ExpressVPN will also help you in bypassing the speed throttling imposed by ISPs that often reduce the browsing experience. It also provides you with the full bandwidth and achieves the maximum speeds.
Servers: ExpressVPN's network consists of a total of 3,000+ VPN servers in 160 locations which are spread across 94 countries throughout continents.
Pricing ExpressVPN has three different plans.
Monthly: Priced at $12.95 for a month, this plan is the shortest and the most expensive among all of the plans. It would cost $155.4 for a full year.
6-month plan: This plan is more moderately priced at $59.95 for 6 months and provides better value than the monthly plan. The per month cost for this plan will be $9.99 which is less than the monthly one.
12-month plan: This plan provides the best value and is priced at $99.95 for 12 months of subscription. The per month cost for this plan is $8.32 which is best among all of ExpressVPN's plans.
Click The Button below and sign up for ExpressVPN for FREE With A 30-day Money Back Guarantee!
Get 30 days Free Trial of ExpressVPN
Bottomline
ExpressVPN is perfectly legal and you can use it without any worries as long as you don't indulge in any sorts of illegal activities. Doing that would still land you in trouble and there's nothing ExpressVPN or any other VPN can do in that matter. You may also get in trouble for using ExpressVPN if VPNs are banned or restricted in the country you are in. Other than this, ExpressVPN is a great VPN and has all of those features that you would require from a VPN. So, if you were looking for a VPN, then go with ExpressVPN because it is both legal to use and a great VPN with tons of features.
Read Next: