It would be difficult to find someone who can deny carrying a bag to school. Be it school or college, the bag, is an integral part. For some kids, the bag might have been a reason to go to school. A quality bag will make your school life simpler, safeguarding books and other possessions. It can be about carrying a few heavy books or fitting a laptop inside, a bag should deliver that. It is essential to look for a backpack that stays relevant, to your current and future requirements.
There are certain key factors to assess a bag to make an informed decision and get one of the best backpacks for high school.
Best Backpacks for High School & College
1. OGIO Renegade RSS Laptop Backpack
OGIO Renegade RSS Laptop Backpack is tailor-made for a tough traveller who needs to accommodate his tech gear. The bag has space to hold a 17-inch laptop, tablet, and other accessories. The padded sleeves keep the electronics safe. It comes with a tech vault crush-proof compartment for safeguarding fragile accessories. The deluxe organisation panel with a stash pocket provides you quick access to travel essentials.
2. Targus Drifter II
Drifter II from Targus is a backpack, designed to fit laptop up to 16 inches. It comes with several large compartments including padded laptop storage. Thickly-padded back-panel has a hidden zipped compartment and provides lumbar support. The shoulders straps are well-padded and wider to offer comfort. Durable material makes drifter a rugged backpack with protective compartments for devices.
3. Herschel Pop Quiz Classic Backpack
This Herschel backpack comes with a combination of quality materials and intelligent design. It has a capacity of 22L which is sufficient to carry books and a laptop. The bag comes with extra pocket space to store additional items. The striped lining is easy to spot and helps retrieve the items from your bag.
4. Oscaurt Anti-theft Backpack
The Oscaurt Anti-theft Backpack comes with hidden zippers that are tough to spot, keeping you less vulnerable to pickpockets. It's safe to charge electronics with the Oscaurt bag. The gadgets can be safe inside the bag and get charged. The backpack comes with a built-in USB charger and charging cable inside. You have to carry a power bank.
5. BOLANG College Backpack
The Bolang college backpack comes with a large compartment to fit laptops and several pockets for extra organisation. Ergonomically designed padded back-panels and shoulder straps offer comfort. The nylon fabric is water-resistant to a certain level.
6. Jansport Big Student Backpack
The Jansport is a familiar name among the bag makers. It has come with a big student backpack which offers a capacity of 34L and has a dedicated 15-inch laptop compartment. This bag comes with a multi-variant fabric and colour. The front utility pocket comes with an organiser.
7. High Sierra Loop Backpack
High Sierra is one of the bag makers with a wide range of backpacks. The waffle ripstop material offers durability and comes with a water-resistant coating.  While it doesn't come with a padded laptop compartment, it can fit a laptop in the sleeve. The Loop Backpack comes with a 33L capacity, roomy to fit books for school.
8. BLUBOON Canvas Vintage Backpack
The BLUBOON Vintage Backpack is perfect for students looking for a vintage-looking backpack, made of leather and canvas. The bag has space for a 15.6inch laptop, books, tablets and adjustable straps.
9. Hynes Eagle School Backpack
This Hynes Eagle school backpack comes with a triple front zipper pocket. The bag comes with a padded back-panel for comfort. The breathable and adjustable, padded shoulder straps help manage the weight and stress on the shoulders. The backpack comes with accessory loops to organise gears in place.
10. Hikpro Packable Backpack
For students who need a simple bag that works for both school and outdoor, the Hikpro Backpack is a steal for the price. The tear-resistant materials make this bag sturdy and flexible. The bag comes with water resistance. While this may be insufficient for a laptop, it has room to carry books for school.
Factors To Consider Before Choosing A Backpack For School
Spacious: The backpack should have room to accommodate books and laptop as a part of your daily requirement. The bags come with distinct compartment or sleeves to fit books and laptop.  Look for the bags with different slots and external pockets in case you find them necessary.
Compactness: Organization becomes an essential aspect of a compact bag. The design aesthetics help to optimize the space. The balance between space and its functionality to suit your requirement is the criteria to choose a backpack for high school.
Ergonomics: Shoulder straps of your bag determine the ease of carrying it.  The height of the straps, and the way it distributes the weight, reduce the stress on your shoulder.  Wider straps with paddings make sure the backpack is lighter than its weight.
Durability: Replacing the backpack for every semester can be annoying.  A quality backpack should last the entire duration of your high school studies unless there are drastic changes in requirement. The quality of the material plays an vital role in its durability. Look for tear-resistant fabric with protected base. Scrutinize the quality of the zippers, the workmanship of the straps before selecting a backpack.
Price: Backpacks are available in different price ranges to suit your budget. The durability and craftsmanship come with a price. The budget options offer bags of same space/size as the costlier ones, but the reliability may be an issue. A backpack for school should be durable to endure the wear and tear of frequent usage.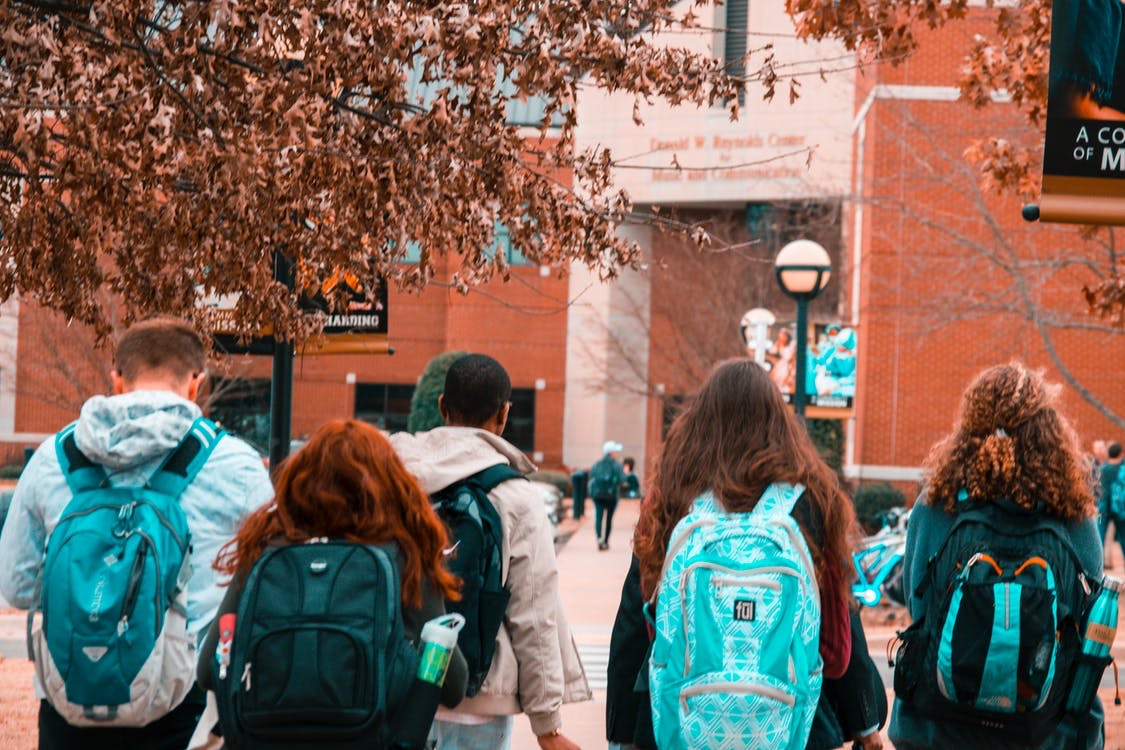 Best Backpacks For High School 2020
While OGIO Renegade comes at a higher price, the features and built quality guarantees a certain amount of durability. The craftsmanship comes with a price. But one cannot ignore the array of budget options. HikePro is a steal for the price, but the question of durability arises. One can extend their budget to get better quality. The Targus Drifter and the Jansport Big student backpack offer value for money product for the respective prices.
Read Next: